The Driving System of Self Loading Mobile Concrete Mixer

2020-06-09
Some people asked me on Quora: How to do when the self loading mobile concrete mixer doesn't rotate? It is certain that there are several solution. However, the best method is to prevent this situation from happening.
The function of the driving system is to drive the the rotation of the mixing tank. It consists of a power take-off, a universal shaft, a hydraulic pump, a hydraulic motor, a control valve, a hydraulic oil tank and a cooling device.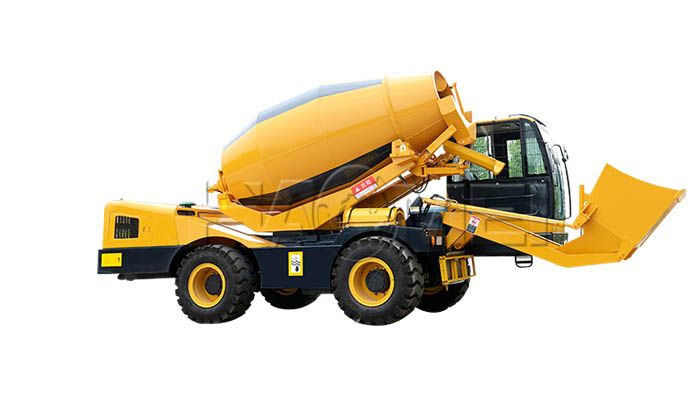 If this part stops working due to a fault, the mixing tank will not be able to rotate. This may result in the concretion of the concrete or even cause the wreck of the self loading transit mixer. Therefore, we need to pay attention to the maintenance of the driving system.
1. The universal shaft is a part with frequent failures. The operator should add the grease in time and regularly check the wear condition and replace in time. A spare universal shaft should be prepared to ensure that it can resume work within tens of minutes in case of failure.
2. Keep in mind that the hydraulic oil is clean. The working environment of the self loading mobile concrete mixer is very poor, it is necessary to prevent the sewage and cement from entering the hydraulic system.
The hydraulic oil should be replaced regularly according to the requirements of the user manual. As soon as the cement or water is mixed into the hydraulic oil, it is necessary to immediately shut down to clean the hydraulic system and replace the hydraulic oil.
3. Make sure that the hydraulic oil cooling device is effective. It is necessary to clean the hydraulic oil radiator regularly to avoid the radiator from being blocked by cement. Check whether the electric fan of the radiator is running normally to prevent the temperature of the hydraulic oil from exceeding the standard.
Haomei Machinery has complete models of self loading mixer from 1.2 m3/batch to 6.5m3/batch. If you plan to buy one, welcome to inquire self loading mobile concrete mixer price from us directly.
Original Source: https://www.self-loading-mixer.com/a/the-driving-system-of-self-loading-mobile-concrete-mixer.html
Tags: self loading mobile concrete mixer | self loading transit mixer | self loading mobil
Prev: How to Extend Service Life of Self Loading Concrete Mixer Truck
Next: New Self loading Transit Mixer V Used Self Loading Mixer
Send us a Message
*required
Relate Products
CONTACT US
Haomei Self Loading Mixer Co.,Ltd
Tel/Whatsapp: +86-15978414719
Email:
feedom@haomei-machinery.com
Website: https://www.self-loading-mixer.com
Office Add: 1103, No.14 Outer Ring Road, CBD, Zhengzhou, China