HM1.2 Self Mixer

Why Choose Mini Self Loading Concrete Mixer
Haomei mini self loading concrete mixer combines self-loading,weighting,mixing and discharging, It can maximize and improve the job efficiency and reduce the production cost and time.

Superior flexibility and highly automation makes it suitable for any temporary or small construction projects. For your own or renting are both available. In one word, it is of high profit return. We also have HM2.0 self loading concrete mixer.
Features of Self Loading Concrete Mixer Machine
1. Ultimate tank capacity technology with 270 degree unloading.
2. Loading capacity is larger for the same volume.
3. Four wheel drive, famous-brand engineer(Yuchai or Cummins).
4. The stronger material sealing capacity and higher filling rate improves the loading capacity of the tank up to 6%.
5. Tank and blades are made of high-strength wear-resistant steel,with service life increased by 30%.
Every Details of Self Loading Mixer We Care About
1. Hydraulic loading shovel with the blade inside. It can load the material easily and accurately, avoiding the waste of cement.
2. Cabin is with double closing door,cameras, two monitors, adjustable seats and microcomputer control,providing comfortable environment for the operator.
3. Steel wire super-resistant engineering tire.
4. Weighing Indicator. The clear and accurate weighing is the first step to produce quality concrete.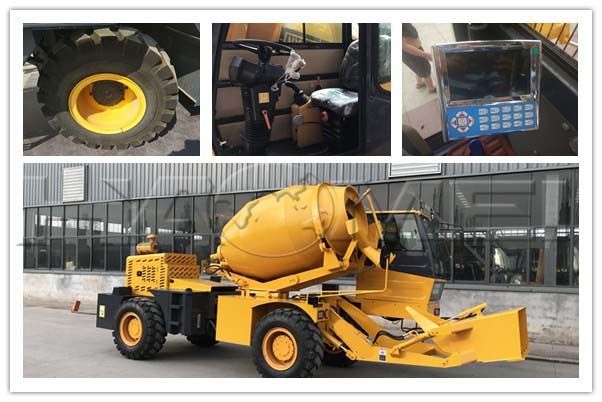 Specification of Mini Self Loading Concrete Mixer
| | |
| --- | --- |
| Item | HM1.2 Cubic Mini Self Loading Concrete Mixer |
| Drum Capacity | 1.8 m3 |
| Concrete output | 1.2 m3 |
| Loading rate | 76% |
| Rotary Drum | Articuated steering |
| Metering | Electronic weighing system(optional) |
| Production Capacity | 4 batches in 1 hour; 5 m3 per hour |
| Engine | Yunnei4102,diesel, water cooling, 4 cylinders, 2200 revolutions per minute, rated power 60 kw |
| Transmission way | Full hydraulic drive, 4 wheel drive and 2 turns |
| Climbing ability | 30% |
| Speed range | Low speed 0-25 km/h, high speed 0-45 km/h |
| Cab | Ultra wide deluxe cab, rops type |
| Hydraulic systems | Open feed, two gear pump participate in action |
| Joystick | A four-way hydraulic pilot with an electric control button controls the bucket |
| Bucket | 300L, hydraulic gate |
| Chute | Equipped with two removable shaft pins to increase the discharge length |
| Water supply system | Self-priming hydraulic pump/electronic water flow monitor/high pressure washer(optional) |
| Brake | Inner wheel brake and the emergency brake operate on 4 wheels, enabling the small servo pump on the independent double-return road. |
| Turn | Hydraulic steering, rear wheel steering |
| Tyre | |
| Power system | 24 V |
| Oil tank/water tank | 2*210l water tank. Diesel tank: 125L. Hydraulic tank: 130L |
| Weight | 4800 kg |
| L*w*H | 6030mm*2180mm*2250 mm |
| Wheelbase | 1.9M |
Original Source: https://www.self-loading-mixer.com/hm12-self-mixer
Tags: mini self loading concrete mixer | self loading mixer | self loading concrete mixer |
Prev: Null
Next: HM1.8 Self Mixer
Send us a Message
*required
CONTACT US
Haomei Self Loading Mixer Co.,Ltd
Tel/Whatsapp: +86-15978414719
Email:
feedom@haomei-machinery.com
Website: https://www.self-loading-mixer.com
Office Add: 1103, No.14 Outer Ring Road, CBD, Zhengzhou, China