The Hydraulic System of Self Loading Concrete Mixer Truck

2020-03-18
The self loading concrete mixer truck is a kind of construction equipment combining the functions of concrete truck and concrete mixer, realizing self loading, weighing, mixing and discharging.
This machine is very popular in many countries such as India, Philippines, Fiji,Singapore, Uganda,etc. It is mainly used in road construction, dams, infrastructure construction and other related projects, as well as small projects in urbanization.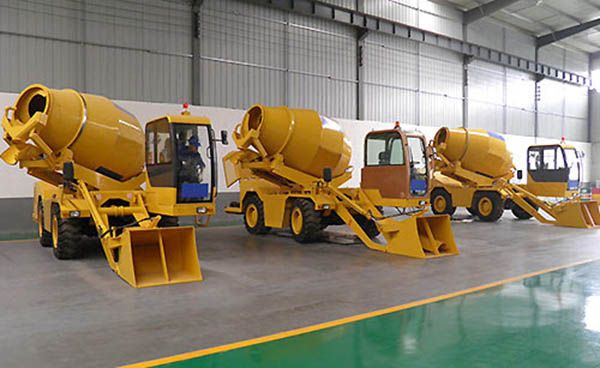 Although the self loading concrete mixer for sale is of compact structure, it has complex functions. The main functions are realized by hydraulic drive, especially the walking hydraulic system runs through the entire operation process. Therefore, the performance of the walking hydraulic system of the mobile mixer is directly related with the efficiency of the whole machine.
The hydraulic system of the self loading mixer truck is mainly composed of a walking hydraulic system, a mixing hydraulic system, and a working mechanism hydraulic system. Among them, the walking hydraulic system and the mixing hydraulic system are closed systems, and the working mechanism hydraulic system is an open system.
For the hydraulic system of the entire vehicle, in addition to the conventional test, we should stress the backpressure of the walking hydraulic system and motors. Based on the test data and site conditions, we can make improvement from the perspectives of the feasibility, convenience, and economy. There are three ways:
1. Adjust the oil return direction of the pump and motor of self loading mixer.
2. Increase the pipeline diameter.
3. Reduce the flow of the oil return filter.
As a self loading concrete mixer manufacturer, Haomei Machinery adopts the most reliable hydraulic system for the mobile mixer to ensure its efficient work.
Original Source: https://www.self-loading-mixer.com/a/the-hydraulic-system-of-self-loading-concrete-mixer-truck.html
Tags: self loading concrete mixer truck | self loading concrete mixer for sale | self load
Prev: The Market Analysis of Self Loading Mixer
Send us a Message
*required
Relate Products
CONTACT US
Haomei Self Loading Mixer Co.,Ltd
Tel/Whatsapp: +86-15978414719
Email:
feedom@haomei-machinery.com
Website: https://www.self-loading-mixer.com
Office Add: 1103, No.14 Outer Ring Road, CBD, Zhengzhou, China