How to Extend Service Life of Self Loading Concrete Mixer Truck

2020-06-03
When buying and operating self loading concrete mixer truck, the customers will definitely pay attention to its service life. How to effectively extend its service life and improve working efficiency?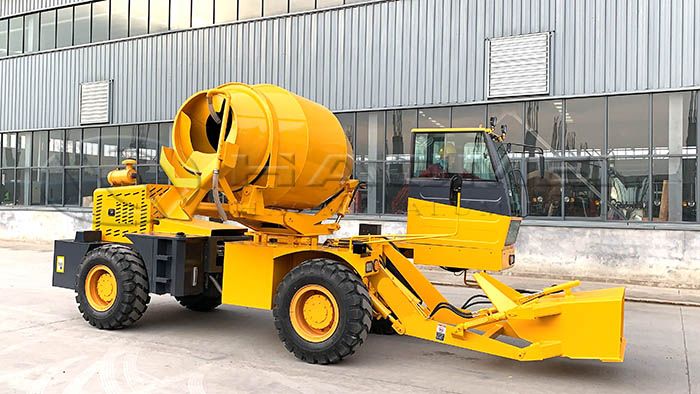 1. The operator should clean the dirt on the roller and the raceway at least once a month; inject grease into the roller through the grease nipple on the roller. And it must be ensured that the drive shaft is lubricated at least once a month.
2. Hydraulic system. The hydraulic oil should be replaced regularly and the filter element should be replaced at the same time. Remember that the engine must be stopped when refueling or changing oil, otherwise it will cause damage to the hydraulic system.
3. Before starting the self loading mixer, check the oil level of the cooler and reducer to ensure that the oil level indicator is within the visual range; check the sealing of the hydraulic oil circuit and keep the hydraulic system clean and sealed to avoid contamination by dust particles and water.
4. For the new self loading concrete mixer for sale, the operator should check the bolt tightening situation of each part after the use of 50 hours. In the future, make sure to check regularly every month.
5. The water supply of the pneumatic water supply system is best at three quarters of the water tank. The valve should be checked frequently if it is blocked. When used in an environment with possible freezing, the water supply system must be emptied.
Original Source: https://www.self-loading-mixer.com/a/how-to-extend-service-life-of-self-loading-concrete-mixer-truck.html
Tags: self loading concrete mixer truck | self loading transit mixer | self loading concre
Prev: How Does The Self Loading Mixer Machine Add Water
Next: The Driving System of Self Loading Mobile Concrete Mixer
Send us a Message
*required
Relate Products
CONTACT US
Haomei Self Loading Mixer Co.,Ltd
Tel/Whatsapp: +86-15978414719
Email:
feedom@haomei-machinery.com
Website: https://www.self-loading-mixer.com
Office Add: 1103, No.14 Outer Ring Road, CBD, Zhengzhou, China