The Structure of Self Loading Mobile Concrete Mixer

2020-05-19
The self loading mobile concrete mixer is a new type of concrete mixing truck that integrates automatic loading, mixing, transportation and automatic unloading. It is used for small projects. It has strong adaptability to country roads, mountain roads, sand road and slopes.
With high automatic degree, the self loading concrete mixer for sale is more efficient than traditional concrete mixers such as more uniform mixing effect , low residue and fast discharge. To reach such functions, the self loading needs to have scientific structure: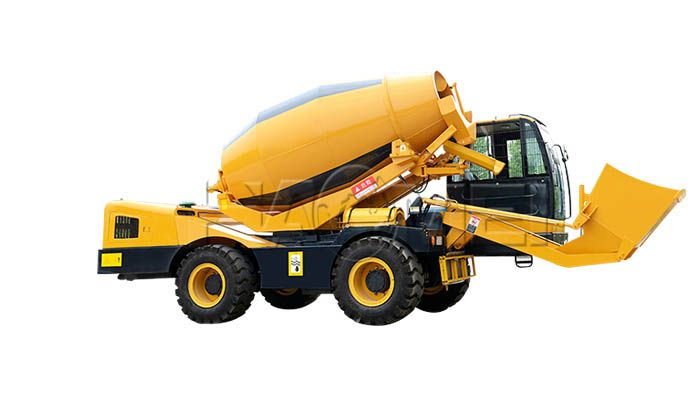 1. Water inlet system. The self loading mixer is equipped with a quantitative self-suctioning pump, and a a quantitative controller is set to achieve automatic quantitative water intake.
2. Hydraulic system. The constant power variable plunger pump is used to reduce the power loss of the self loading mixer engine.
3. Walking system. The power is transmitted to the front and rear axles through the torque conveter and the front and rear transimmtion shafts from the engine. Haomei self loading transit mixer is of four wheel drive, which greatly reduces the turning radius and is more suitable for narrow construction sites.
4. Feeding advice. According to the designed ratio, the material is self weighed and fed by the shovel arm, boom cylinder and bucket.
It solves the transportation problem of commercial concrete from the preparation site to the pouring site, so it has become an ideal means of transportation for commercial concrete. If you like to know self loading mobile concrete mixer price, welcome to inquire from us directly.
Original Source: https://www.self-loading-mixer.com/a/the-structure-of-self-loading-mobile-concrete-mixer.html
Tags: self loading mobile concrete mixer | self loading mobile concrete mixer price | self
Prev: The Daily Maintenance of Self Loading Concrete Mixer Truck
Send us a Message
*required
Relate Products
CONTACT US
Haomei Self Loading Mixer Co.,Ltd
Tel/Whatsapp: +86-15978414719
Email:
feedom@haomei-machinery.com
Website: https://www.self-loading-mixer.com
Office Add: 1103, No.14 Outer Ring Road, CBD, Zhengzhou, China