The Self Loading Mixer with Multiple Patent

2020-04-01
What is a reliable self loading mixer in your mind? Is the one with multiple patent OK? Since the self loading concrete mixer is born, Haomei Machinery keeps improving its design.
Besides, the self loading, mixing, transport and discharging, the self loading bucket of Haomei has won more attention.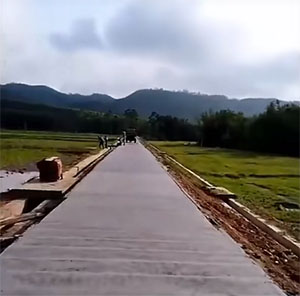 On July 15, 2015, the Haomei mechanical mixing tank obtained national patent certification. The compulsory dual directional mixing technology can make the mixing shaft rotate clockwise and counterclockwise alternately to keep the raw materials rotating on one core, thus getting more even mixing effect.
On November 18, 2015, the 270/290 degree discharging design as certified by the national patent. With this design, the self loading mobile concrete mixer is widely used in road construction, embankment construction, bridge construction, house construction, tunnel construction and other projects.
On April 12, 2017, the patent of the articulated mixer truck was certified. This patent has the characteristics of flexible steering and small turning radius. It is especially suitable for narrow roads and limited construction space.
On February 23, 2018, the self-loading design and the practical patent of the revolving cab were simultaneously certified by the national patent. On the country road or in the mountain area, 180-degree rotation of the cab makes mixer truck no longer need to worry about the trouble of turning.
Haomei self loading mixer is devoted to give you better driving and operational experience. If you need a quality one, welcome to contact us directly.
Original Source: https://www.self-loading-mixer.com/a/the-self-loading-mixer-with-multiple-patent.html
Tags: self loading mixer | self loading mobile concrete mixer | self loading concrete mixe
Prev: How to Maintain Self Loading Concrete Mixer Truck
Next: What Is the Disadvantages of Self Loading Concrete Mixer
Send us a Message
*required
Relate Products
CONTACT US
Haomei Self Loading Mixer Co.,Ltd
Tel/Whatsapp: +86-15978414719
Email:
feedom@haomei-machinery.com
Website: https://www.self-loading-mixer.com
Office Add: 1103, No.14 Outer Ring Road, CBD, Zhengzhou, China