How Does Self Loading Mixer Cooperate with Pumps

2021-05-18
The self loading mixer has self feeding, mixing, transport and discharging in one. With accurate weighing and strong mixing technology, it can ensure the concrete quality fully meets the requirements of different projects.
With four wheel drive and strong climbing ability, it is widely used for house building, roads projects, slope protection,etc in remote and mountainous areas. In addition, it can discharge 270 degrees, greatly improving the discharging efficiency.

But for some high-rise buildings, we still need concrete pumps to cooperate with the self loading mixer machine. There are two concrete pumps: trailer line pump and boom pump.
As a kind of concrete conveying machinery for construction sites, the trailer line pump is widely adopted. Labor saving is the main reason for rural construction customers to buy it. Haomei concrete pump trailer features high degree of automation.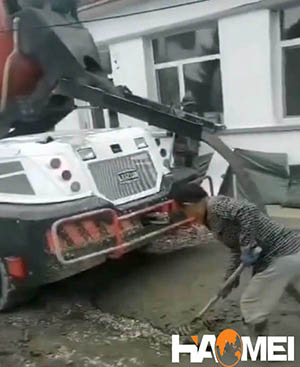 It is applicable for small and medium-sized construction projects, including township civil construction, rural construction, township cement pavement, mines, highways, railways, tunnels, hydropower projects, etc. It can move quickly between several construction sites to ensure effective pumping and greatly improve the construction efficiency.
Another is concrete boom pump truck. It is modified on the chassis of a truck. The power of the engine is transferred to the hydraulic pump unit or the rear axle through the power transfer box, and the hydraulic pump pushes the piston to drive the concrete pump to work. The it makes use of the booms to convey the concrete to a certain height and distance.
As a modern construction method, the concrete pump truck has the characteristics of large delivery volume and fast delivery speed, which has an irreplaceable effect on accelerating the construction progress, shortening the construction period, and reducing the construction cost.
In rural areas, the choice of most customers is 18-25 meter concrete boom pump truck. It can perfectly work with self batching concrete truck. Welcome to leave message below to inquire what you need.
Original Source: https://www.self-loading-mixer.com/a/how-does-self-loading-mixer-cooperate-with-pumps.html
Tags: self loading mixer machine
Prev: Two Types of Concrete Equipment for Small Projects
Send us a Message
*required
Relate Products
CONTACT US
Haomei Self Loading Mixer Co.,Ltd
Tel/Whatsapp: +86-15978414719
Email:
feedom@haomei-machinery.com
Website: https://www.self-loading-mixer.com
Office Add: 1103, No.14 Outer Ring Road, CBD, Zhengzhou, China