The Use of Self Loading Concrete Mixer Machine in Mountain Area

2020-03-31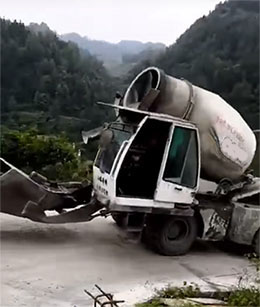 As we all know, the mountain roads are rugged, of steep slopes and very narrow. It has high requirements for the self loading concrete mixer machine to work in such environment.
Under the premise of heavy body, the climbing process is difficult. In the face of this difficulty, HM 4.0 cubic self batching concrete truck is equipped with a 92kw Cummins engine, with strong power and fuel economy and 1670-20 solid tires.
All-wheel drive can distribute the engine's output torque to all the front and rear wheels respectively according to the different conditions of the road surface, improving the driving ability. The flexible turning can even pass 40 degree detour.
When a road needs repairing or widening, the discharging with 270 degree can realize the accurate pouring of the concrete. Another person needs to manually pave it. In addition, 180 degree rotating cab can help the driver get back along he original road.
According to incomplete data statistics, Haomei self loading mixer truck has finished the construction of more than 20,000 roads. It has been favored by dozens of countries such as Vietnam, Thailand, Nigeria, Nepal, etc., to help road construction projects around the world.
Original Source: https://www.self-loading-mixer.com/a/the-use-of-self-loading-concrete-mixer-machine-in-mountain-area.html
Tags: self loading concrete mixer machine | self batching concrete truck | self loading mi
Prev: Self Loading Concrete Mixer Machine V Other Concrete Equipment
Send us a Message
*required
Relate Products
CONTACT US
Haomei Self Loading Mixer Co.,Ltd
Tel/Whatsapp: +86-15978414719
Email:
feedom@haomei-machinery.com
Website: https://www.self-loading-mixer.com
Office Add: 1103, No.14 Outer Ring Road, CBD, Zhengzhou, China