What Will The Self Loading Transit Mixer Bring for You

2020-03-30
The self loading transit mixer combines self loading, mixing and transportation. Four wheel drive expand its revenue channels. Therefore, many customers have bought or are planing to buy one. What will it bring for you?
Less Labor Cost
If we use traditional concrete mixer, there are at leas 8 people to finish the work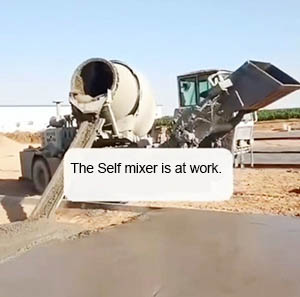 from the loading to pave. With self loading concrete mixer, you only need half of the original workers. In the labor cost, it will save thousands of dollars every month. In addition, the capacity has been greatly improved. High efficiency will help the customer get more projects.
Self Use and Rent are Available
Compared with buying commercial concrete, the raw material cost is far lower. With self loading mixer machine, we can get the qualified concrete with a relatively lower price. Besides, high flexibility enables it go anywhere, therefore, it is very suitable for renting. Self mixer is an ideal choice to expand business.
Primary Choice in Rural Construction
For house housing, road and various rural infrastructural construction such as trenching, there is a large demand for concrete. The purchasing cost may be unbearable and it is difficult for the concrete truck to drive on the rural roads.
The self loading concrete mixer is of compact structure, which has strong adaptability for the rural road conditions. These are the reflections from the customers of Haomei Machinery. If you like to get self loading transit mixer price, welcome to contact us directly.
Original Source: https://www.self-loading-mixer.com/a/what-will-the-self-loading-transit-mixer-bring-for-you.html
Tags: self loading transit mixer | self loading transit mixer price | self loading concre
Prev: Where Can Self Batching Concrete Truck Be Used
Next: Self Loading Concrete Mixer Machine V Other Concrete Equipment
Send us a Message
*required
Relate Products
CONTACT US
Haomei Self Loading Mixer Co.,Ltd
Tel/Whatsapp: +86-15978414719
Email:
feedom@haomei-machinery.com
Website: https://www.self-loading-mixer.com
Office Add: 1103, No.14 Outer Ring Road, CBD, Zhengzhou, China