The Popularity of Self Loading Mixer in Mountain Area

2020-07-20
The construction projects in mountain area face to many difficulties: insufficient power, remote location and complex environment. For the concrete mixer that require electricity, they can play little role in mountainous areas, delaying the progress of the project.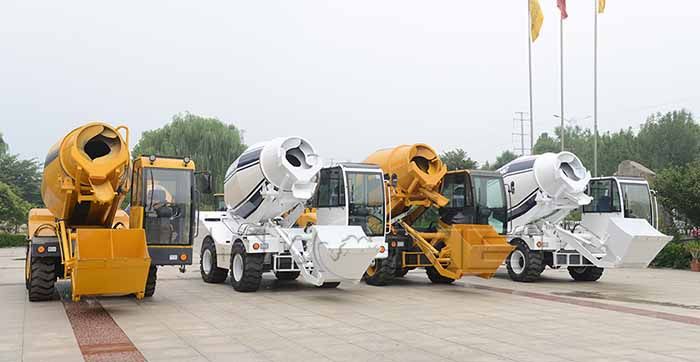 The location of construction sites is far from the commercial concrete mixing plant and the cost of the commercial concrete is very high. In addition, the mountain road is steep, and there are endless detours. Even if there are commercial concrete batching plant, the poor road conditions is still a huge test for commercial concrete mixer truck.
But all these is not a problem for the self loading mixer. That's why it is so popular in the mountain area. As a diesel-driven mechanical equipment, our self loading concrete mixer is equipped with a Yuchai engine, which is powerful and of rapid hydraulic action. It only takes 12 minutes on average from feeding to discharging.
Even in remote areas, there is no difficulty for the self loading transit mixer. It is just like a small mobile concrete batching plant. It can mix the concrete during the transportation. The patented articulated body can turn flexibly in mountainous transportation without fear of the turns.
The compact body with four-wheel drive is designed for projects in complex environment. It can realize stable climbing and high safety. In the case of continuous projects, the customer can get return in less than a year, because it can save a lot of cost on labor and raw material. Besides, the return is quite large in the later period.
The self loading mixer is widely used for a variety of the infrastructure projects such as road construction, bridge construction, house construction,etc. There are countless projects assisted by Haomei self mixer. Welcome to inquire the self loading mobile concrete mixer price from us.
Original Source: https://www.self-loading-mixer.com/a/the-popularity-of-self-loading-mixer-in-mountain-area.html
Tags: self loading mixer | self loading transit mixer | self loading mobile concrete mixer
Prev: How Does The Self Loading Transit Mixer Self Load
Next: The Unique Advantages of Haomei Self Loading Concrete Mixer For Sale
Send us a Message
*required
Relate Products
CONTACT US
Haomei Self Loading Mixer Co.,Ltd
Tel/Whatsapp: +86-15978414719
Email:
feedom@haomei-machinery.com
Website: https://www.self-loading-mixer.com
Office Add: 1103, No.14 Outer Ring Road, CBD, Zhengzhou, China