The Unique Advantages of Haomei Self Loading Concrete Mixer For Sale

2020-07-21
The power of Haomei self loading mixer is output by the full-power take-off of the second-class chassis and the power is transmitted to the hydraulic pump through the drive shaft. The hydraulic energy generated by the hydraulic pump is transmitted to the hydraulic motor through the tubing. The hydraulic motor converts the hydraulic energy into kinetic energy and transmits it through the reducer.
For the mixing tank, by adjusting the angle of the servo handle of the hydraulic pump, the forward and reverse rotation and the speed of the mixing tank can be realized, so as to realize the operations of self loading, mixing and discharging.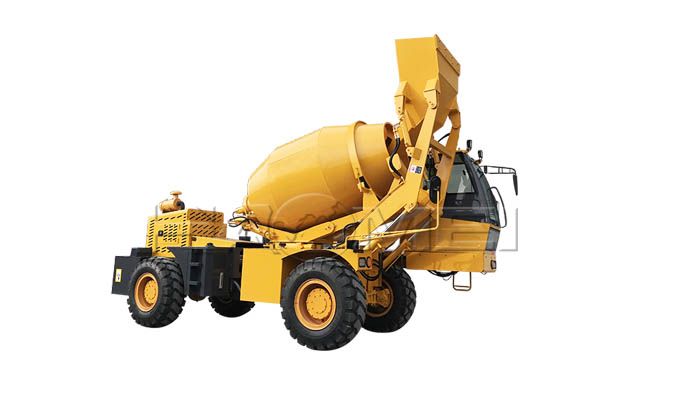 The self loading concrete mixer for sale is our best selling one. Why is it so popular? Let's come to know together.
l It is of cute body, short wheelbase and small turning radius, therefore it has strong advantages in working environments with limited height, width and length. The width of the vehicle is as low as 2.55m and the height is less than 3.35m. It can walk freely on narrow roads in urban or rural areas.
l The self batching concrete truck can realize 270 degree discharging. The articulated body can also make it turn flexibly on narrow roads. The application of Yuchai engine brings strong power. With steel wire tires, it can easily face various working conditions.
l Details decide success. The lines of the hydraulic system are neat and tidy, and the materials used at the connection ports are all replaced with imported steel material, which fundamentally prevents oil leakage. Under high-intensity work, the heat dissipation is rapid to ensure stable operation of the system.
l The luxurious cab with air conditioning fans provide a comfortable driving environment for the drivers no matter which season it is. The operating handle is clearly marked. And the the 360-degree panoramic camera has high safety performance.
With so many innovative designs, Haomei self loading transit mixer brings you high quality concrete with high efficiency. Take HM4.0 self loading transit mixer for example. It can produce nearly about 20 m3 and the concrete production volume can reach 500 tons with 10 working hours.
Original Source: https://www.self-loading-mixer.com/a/the-unique-advantages-of-haomei-self-loading-concrete-mixer-for-sale.html
Tags: self loading concrete mixer for sale | self loading mixer | self loading transit mix
Prev: The Popularity of Self Loading Mixer in Mountain Area
Next: Top 4 Features of Self Loading Concrete Mixer for Sale
Send us a Message
*required
Relate Products
CONTACT US
Haomei Self Loading Mixer Co.,Ltd
Tel/Whatsapp: +86-15978414719
Email:
feedom@haomei-machinery.com
Website: https://www.self-loading-mixer.com
Office Add: 1103, No.14 Outer Ring Road, CBD, Zhengzhou, China