The Latest Design of Self Loading Mixer

2020-04-13
Haomei Machinery always put the efficiency in the first place. According the reflection from the customer, Haomei self loading mixer has made comprehensive upgrade on the basis of the previous generation.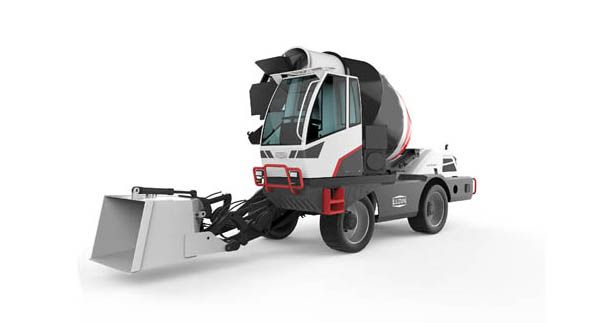 A more flexible loading bucket
As we all know, the mixing proportion is very important for the quality of the concrete. When there is too much material in the bucket, the loading arms needs lifting to a certain height to discharge the excess material.
In the latest design, Once there is too much shoveling, under the control of the cab operation, the bucket can swing up and down freely, and the excess material can be easily dumped. In addition, the bottom structure of the bucket is upgraded to a round shape, which has a larger capacity and faster and smoother feeding and discharging.
The addition of hydraulic components
In the latest self loading concrete mixer, Haomei adds two kinds of hydraulic components, the shunt valve and balance valve, which makes the hydraulic action more compliant and uniform, thus greatly improve the operation efficiency.
The improvement of control cab
In the driving cab, we adopt an integrated workbench. The LCD screen on the workbench shows all the data clearly such as the body speed, water temperature, oil pressure and other values. Especially in summer, in order to avoid the the failure caused by excessive operation, we need to keep close watch on each value of the self mixer. The application of this workbench saves the operator a lot of troubles.
As a leader in the manufacturing of self loading mobile concrete mixer, Haomei Machinery insists on the the innovative research and development of the efficiency and performance of self mixers to meet the urgent needs of users. Welcome to inquire self loading mobile concrete mixer price from Haomei Machinery.
Original Source: https://www.self-loading-mixer.com/a/the-latest-design-of-self-loading-mixer.html
Tags: self loading mixer | self loading concrete mixer | self loading mobile concrete mixe
Prev: Is Self Loading Concrete Mixer Truck Durable?
Next: Self Loading Concrete Mixer Truck for Ground Hardening
Send us a Message
*required
Relate Products
CONTACT US
Haomei Self Loading Mixer Co.,Ltd
Tel/Whatsapp: +86-15978414719
Email:
feedom@haomei-machinery.com
Website: https://www.self-loading-mixer.com
Office Add: 1103, No.14 Outer Ring Road, CBD, Zhengzhou, China