Is Self Loading Concrete Mixer Truck Durable?

2020-04-10
Since the demand for concrete in the project is very large, in order to save some unnecessary expenses, many contractors choose self loading concrete mixer. As a concrete equipment with multi-functions of loading, weighing, mixing, transport and discharging, someone may doubt if self loading concrete mixer truck is reliable and durable.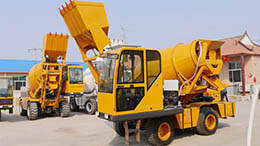 Without stability and durability, high efficiency is meaningless. The self loading concrete mixer is very reliable and durable for it is completely designed for working in the mountain area, steep cliffs, remote places with backward power.
Its mixing tank is made of manganese steel that is both pressure-bearing and wear-resistant. The engine adopts the well-known domestic brand Yuchai or international brand. The four-wheel drive and four-wheel steering are stable and is perfectly matched with the axle to ensure its whole stability.
The self batching concrete truck produced by Haomei Machinery has undergone the update iteration of the 13 generation. Its manufacturing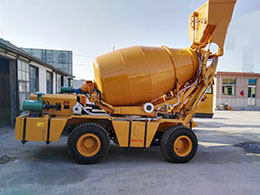 technology is mature and even the smallest parts must choose the most wear-resistant and durable material.
In addition, the loading bucket perfectly fits the body with free stretches. Whether it is cement or sand stones, it will be accurately inserted into the tank by the self loading arms. Under the force of a compulsory mixer, the concrete completely meets the quality standards.
Independent development, CE certification and rigorous material selection wins the approval of all our customers. If you need it, welcome to contact us directly.
Original Source: https://www.self-loading-mixer.com/a/is-self-loading-concrete-mixer-truck-durable.html
Tags: self loading concrete mixer truck | self loading concrete mixer | self batching conc
Prev: How About the Efficiency of Self Loading Concrete Mixer Truck
Send us a Message
*required
Relate Products
CONTACT US
Haomei Self Loading Mixer Co.,Ltd
Tel/Whatsapp: +86-15978414719
Email:
feedom@haomei-machinery.com
Website: https://www.self-loading-mixer.com
Office Add: 1103, No.14 Outer Ring Road, CBD, Zhengzhou, China