The Rolls Royce of Self Loading Mixer Or The Luxury Driving Cab

2020-04-07
The self loading mixer has been launched to a widespread acclaim because of its utilitarian function. With continuous technological improvement, Haomei self loading concrete mixer is winning more attention.
The new design, the luxury driving cab, makes Haomei self loading concrete mixer truck the Rolls Royce of the self mixers. What are the selling points of this new self mixing concrete truck?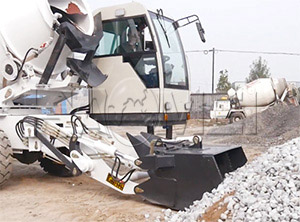 Firstly, the cab housing is made of new material, durable, anti-corrosive and more stable. It also has strong insulation ability to heat and noise, which provides a cool environment for the operator working in summer. That will undoubtedly improve working efficiency.
Secondly, Haomei driving cab combines other function in one. Those important values such as oil temperature, water pressure, and body speed are clearly shown in the dashboard.
Thirdly, the bottom of the cab is made of manganese steel plate, a very strong material, which greatly improving the stability when climbing on the mountain roads. At the same time, the electronic weighing system is still accurate enough to protect the quality of the concrete.
Fourthly, the much broader vision of the driving cab and panoramic camera give the driver safer and more comfortable driving experience.
Haomei self loading concrete mixer for sale put the driver in the center place. A comfortable driving cab with other powerful functions has ushered in a new wave of the self loading mixer.
Original Source: https://www.self-loading-mixer.com/a/the-rolls-royce-of-self-loading-mixer-or-the-luxury-driving-cab.html
Tags: self loading mixer | self loading concrete mixer for sale | self loading concrete mi
Prev: 3.0 Cubic Self Loading Concrete Mixer Price
Next: The Application Cases of Self Loading Concrete Mixer Machine
Send us a Message
*required
Relate Products
CONTACT US
Haomei Self Loading Mixer Co.,Ltd
Tel/Whatsapp: +86-15978414719
Email:
feedom@haomei-machinery.com
Website: https://www.self-loading-mixer.com
Office Add: 1103, No.14 Outer Ring Road, CBD, Zhengzhou, China