The Buying Guide for Self Loading Concrete Mixer for Sale

2020-08-24
The self loading concrete mixer for sale has self loading, weighing, mixing, transport and discharging in one. With four wheel drive, it can go anywhere. Therefore, it gradually becomes the ideal choice for many small projects. What should we pay attention to when buying one?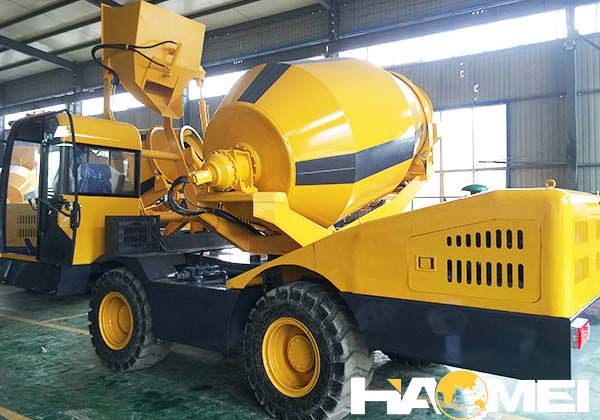 1. The choice of tank volume. The small models of the self loading concrete mixer machine are more popular such as HM2.0, HM3.5 and HM4.0 self loading mixer. These models are of higher cost performance. It is certain that you have to buy one according to your needs.
2. The quality of the mixing tank. The quality of the tank body of the self loading mixer truck mainly refers to the thickness of the tank body. Generally the mixing tank choose 5 mm manganese plates.
3. Road conditions: If the road conditions are flat, the requirements for the engine and hydraulic parts are not so high. If the road conditions are poor, those key parts had better choose the imported ones.
4. Structure design: The reasonable structure design can ensure convenient operation and more thorough unloading. If the unloading is not complete, it is easy to accumulate concrete residue in the mixing tank, and the effective volume of the tank will be reduced after a long period of time.
Take HM 4.0 self loading mixer for example. Compared with the flat bottom structure of other mixer trucks, the bottom of Haomei self loading mixer bucket adopts a round bottom structure, which makes the loading more efficiently.
In addition to these standards, the customer also can know about the sales amount and visit self loading concrete mixer factory. With complete models, Haomei self loading concrete mixer has always been a right choice for many customers.
Original Source: https://www.self-loading-mixer.com/a/the-buying-guide-for-self-loading-concrete-mixer-for-sale.html
Tags: self loading concrete mixer for sale | self loading concrete mixer factory | self loading concrete mixer machine
Prev: How to Avoid Overloading of Self Loading Transit Mixer
Next: How to Deal with Insufficient Hydraulic Pressure of Self Loading Transit Mixer
Send us a Message
*required
Relate Products
CONTACT US
Haomei Self Loading Mixer Co.,Ltd
Tel/Whatsapp: +86-15978414719
Email:
feedom@haomei-machinery.com
Website: https://www.self-loading-mixer.com
Office Add: 1103, No.14 Outer Ring Road, CBD, Zhengzhou, China