How to Avoid Overloading of Self Loading Transit Mixer

2020-08-24
The self loading transit mixer is a popular construction equipment for small projects such as house building, rural roads construction, slope protection, tunnel construction,etc. Like other construction equipment, it also always faces to the problem of the overloading.
Before determining whether a self loading concrete mixer machine is overloaded, we need to understand the following three concepts: geometric volume, mixing volume, discharging volume.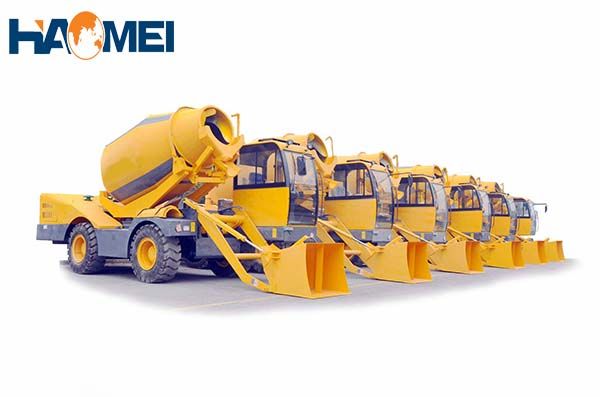 1. Geometric volume: The actual geometric volume of the mixing tank refers to the volume of the mixing tank calculated by mathematical methods during design.
2. Mixing volume:It refers to the unmixed concrete materials including water, cement and sand that the mixing tank can hold without
3. The discharging volume: It refers to the amount of ready-mixed concrete that can be transported by the self loading mixer truck or the amount of concrete that the mixer truck can unload when it reaches the project site.
The numerical relationship of the three should be: geometric volume>mixing volume>discharging volume. Take HM2.0 self loading concrete mixer for sale. 2.0 here refers to the output of the self loading mixer every batch, that is the discharging volume.
As a self loading concrete mixer manufacturer, Haomei Machinery always suggest our customers use the truck according to its volume and the load weight. The overloading of the construction equipment is easier to cause the serious traffic accidents.
Original Source: https://www.self-loading-mixer.com/a/how-to-avoid-overloading-of-self-loading-transit-mixer.html
Tags: self loading transit mixer | self loading concrete mixer machine | self loading concrete mixer for sale
Prev: The Broad Application of Self Loading Transit Mixer
Next: The Buying Guide for Self Loading Concrete Mixer for Sale
Send us a Message
*required
Relate Products
CONTACT US
Haomei Self Loading Mixer Co.,Ltd
Tel/Whatsapp: +86-15978414719
Email:
feedom@haomei-machinery.com
Website: https://www.self-loading-mixer.com
Office Add: 1103, No.14 Outer Ring Road, CBD, Zhengzhou, China