The Speed Control of Self Loading Transit Mixer's Mixing Drum

2020-08-14
At present, when concrete mixing and transportation are carried out in small-scale construction such as water conservancy construction, road hardening construction and other occasions in remote areas, it faces to many problems.
The large concrete mixer is mostly stationary. The produced concrete can only be transported by the concrete trucks or manually to the site. They also need a large area and require power supply. The small ones also need other vehicles to help move. Moreover, the loading of the current concrete mixers needs the help of the other auxiliary equipment.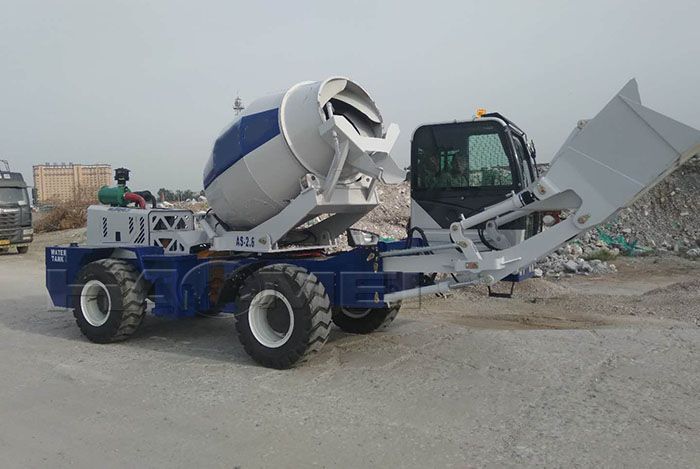 The appearance of the self loading concrete mixer completely change the situation. It has the functions of self loading, weighing, mixing, transport and discharging in one. The speed of the mixing drum of the self loading mixer machine determines the mixing quality of the concrete and will affect whether the concrete is segregated.
Under the premise of ensuring the quality of the concrete, the speed of the mixing tank also has a great impact on the fuel consumption of the self loading mixer. Therefore, it is one of the key technologies of the self loading concrete mixer truck.
The unstable speed control will not only affects the quality of concrete and cause the lack of power, but also causes the huge waste of the vehicle. How to solve this problem? Haomei Machinery develops a new self loading concrete mixer speed control system.
Based on the existing vehicle, the new system can completely control the rotation speed of the mixing tank through structural transformation. While ensuring the quality of concrete, the self loading mixer can achieve the maximum energy saving, and can also give full play to the power of the mixer.
Haomei Machinery has eight models of the self loading mixers for sale. Welcome to leave message below to contact us directly.
Original Source: https://www.self-loading-mixer.com/a/the-speed-control-of-self-loading-transit-mixers-mixing-drum.html
Tags: self loading transit mixer | self loading mixer machine | self loading mixer for sa
Prev: Why to Choose Haomei Self Loading Mixer for Sale
Send us a Message
*required
Relate Products
CONTACT US
Haomei Self Loading Mixer Co.,Ltd
Tel/Whatsapp: +86-15978414719
Email:
feedom@haomei-machinery.com
Website: https://www.self-loading-mixer.com
Office Add: 1103, No.14 Outer Ring Road, CBD, Zhengzhou, China