How to Check if Tank of Self Loading Mixer Doesn't Rotate

2020-04-27
If the mixing drum of the self loading mixer does not rotate, it will lead to the solidification of concrete and the consequences will be serious if it is not handled in time. So why does this phenomenon occur? How to troubleshoot?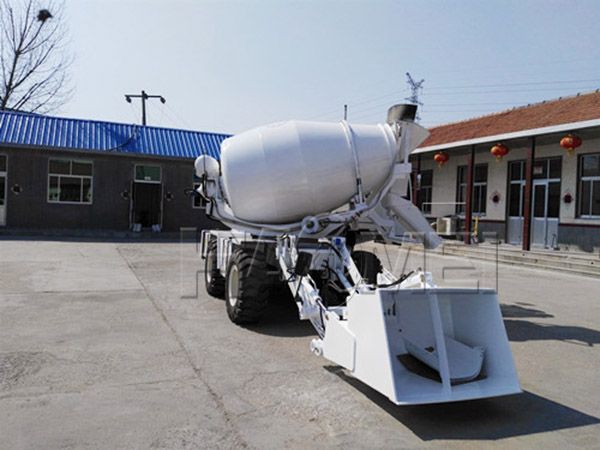 1. Failure of the engine
If it is the drive shaft that is damaged, which should be replaced immediately.

Check whether there is any leakage of hydraulic oil and the pipe is well sealed. If yes, replace it immediately.

Check if the radiator fan of the self loading transit mixer is running and if the hydraulic oil emulsification turns white. If the the temperature of the hydraulic oil exceeds 90℃, the hydraulic system has no pressure, and the tank will not rotate.

If this happens, cool down the hydraulic pump, hydraulic motor, and hydraulic oil with water, hen the drum will rotate. After discharging the concrete, fix the radiator or hydraulic oil in time.
2. The hydraulic motor is damaged or the reducer is broken
In this case, we can open the inspection cover on the tank to discharge the concrete.
3. The mixing drum stops working without your attention and the concrete has started segregating. This may be the case if it is difficult to step on the accelerator. How to deal with it?
If the inspection cover is on the top, the driver of the self loading concrete mixer machine factory can use the tower crane or winch to rotate the tank inspection cover to the bottom to release the concrete.

If the tank is stuck, A 50 square centimeter hole can be cut below the tank side to discharge the concrete. Pay attention to avoid the spiral blades in the tank and the cut tank wall must be retained for the later repair.
Original Source: https://www.self-loading-mixer.com/a/how-to-check-if-tank-of-self-loading-mixer-doesnt-rotate.html
Tags: self loading mixer | self loading concrete mixer machine factory | self loading tr
Prev: How to Maintain Self Loading Transit Mixer in Windy Weather
Next: How to Decide Drum Diameter of Self Loading Transit Mixer
Send us a Message
*required
Relate Products
CONTACT US
Haomei Self Loading Mixer Co.,Ltd
Tel/Whatsapp: +86-15978414719
Email:
feedom@haomei-machinery.com
Website: https://www.self-loading-mixer.com
Office Add: 1103, No.14 Outer Ring Road, CBD, Zhengzhou, China