The Self Loading Mixer in Tunnel Construction

2020-03-26
When constructing a tunnel, you will find a self loading mixer is very convenient to use because large concrete truck can't enter the construction site. Tunnel construction requires a lot of concrete pouring, how to keep the normal working of self loading concrete mixer truck?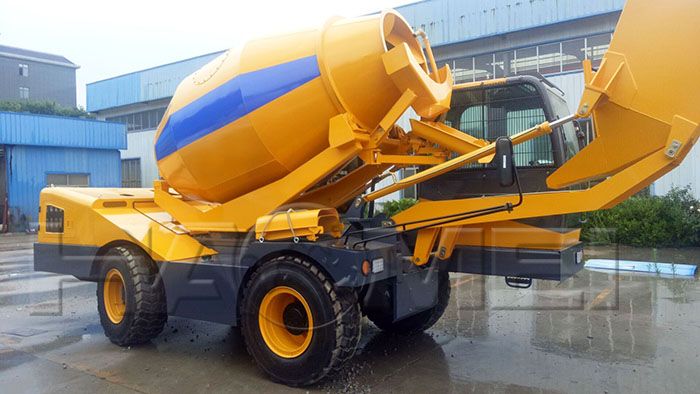 The main reason of the rotation stop are as follows:
Engine failure: the engine can't start or the power take-off is damaged.

Upper body failure: It may be drive shaft damage, oil pump failure, dirty or insufficient hydraulic oil, motor failure, reducer failure or loose control lever, etc.
When the tank can't rotate during the transportation, the driver should stop to check which part is abnormal. We can judge whether there are abnormal noises from drive shaft and the reducer through the careful listening.
Then, we should check whether the oil level of the hydraulic tank is too low or the pipeline has a serious oil leakage. We also can move oil pump servo lever forwards and backwards to see if the tank body does not rotate in any direction.
When this situation happens, the driver can contact the local service personnel in the first time. If the problem can't be fixed before the condensation of the concrete, emergency measures should be taken immediately:
When there is no fault in the motor and the reducer, connect the "emergency oil pipe" to unload the concrete to prevent its condensation.

If the motor or reducer of self loading concrete mixer fails, the operator needs to open a gate in the front part of the tank and pour a large amount of water into the inlet to wash the concrete away.
Original Source: https://www.self-loading-mixer.com/a/the-self-loading-mixer-in-tunnel-construction.html
Tags: self loading mixer | self loading concrete mixer truck | self loading concrete mix
Prev: Self Loading Mobile Concrete Mixer: Meeting the Demand
Send us a Message
*required
Relate Products
CONTACT US
Haomei Self Loading Mixer Co.,Ltd
Tel/Whatsapp: +86-15978414719
Email:
feedom@haomei-machinery.com
Website: https://www.self-loading-mixer.com
Office Add: 1103, No.14 Outer Ring Road, CBD, Zhengzhou, China