An Analysis of Five Functions of Self Loading Mixer

2020-07-02
The self loading concrete mixer is of self loading, weighing, mixing, transport and discharging, which is an ideal choice for small construction sites and remote construction projects. High automation and high profit return makes it more and more popular. It provide an alternative choice for customers to replace stationary and mobile concrete batching plant.
What is the configuration of self loading concrete mixer machine? Let's have a look together.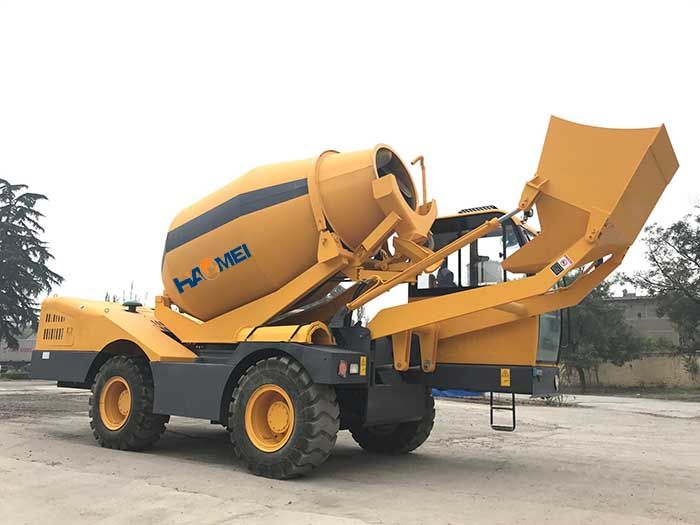 Feeding: The self batching concrete truck is of a hinged hydraulic shovel, which can load the raw material easily and accurately. The blade inside the bucket can actively cut the cement bag and then avoid the waste of material.
Mixing: After the aggregate and cement enter the mixing drum, they can be perfectly mixed by the pressurized water flow in the water tank. The special double screw blades ensure the mixing quality and concrete quality. Our self loading mixer is also equipped with electronic weighing system.
Transporting: Four-wheel drive hydraulic transmission device and good configuration make self loading concrete mixer machine drive on a slope of 30 degrees under full load.
Discharging: The operator uses the operating lever to turn the mixing drum through 270°, and can pour the concrete in 4 directions around the vehicle at a height of 2m or more.
Driving cab: The drive can control all major operations through a handle in a fully equipped cab. A broad view will ensure the driving safety.
Safety: It is equipped with an anti-rollover and anti-fall maintenance system. So it can provide a comprehensive safety guard for the driver under the harsh construction environment and road conditions.
If you also like to buy a self loading mixer, welcome to inquire a self loading concrete mixer price from us directly.
Original Source: https://www.self-loading-mixer.com/a/an-analysis-of-five-functions-of-self-loading-mixer.html
Tags: self loading mixer | self loading concrete mixer machine | self loading concrete mi
Prev: How to Park Self Batching Concrete Truck
Send us a Message
*required
Relate Products
CONTACT US
Haomei Self Loading Mixer Co.,Ltd
Tel/Whatsapp: +86-15978414719
Email:
feedom@haomei-machinery.com
Website: https://www.self-loading-mixer.com
Office Add: 1103, No.14 Outer Ring Road, CBD, Zhengzhou, China