How to Operate Self Loading Concrete Mixer Truck

2021-07-13
The self loading mobile concrete mixer integrates loading, mixing, transportation and unloading, just like a mobile concrete batching plant. It features narrow body, short wheelbase and small turning radius, which has strong advantages in working environments with limited height, width and length.
Haomei self loading concrete mixer for sale is equipped with an automatic weighing system, an automatic water supply device and strong mixing technology. The mixed concrete is suitable for various projects, and it is absolutely qualified and up to the standard. For the narrow construction sites, it can discharge 270 degree, which can discharge on all sides without moving.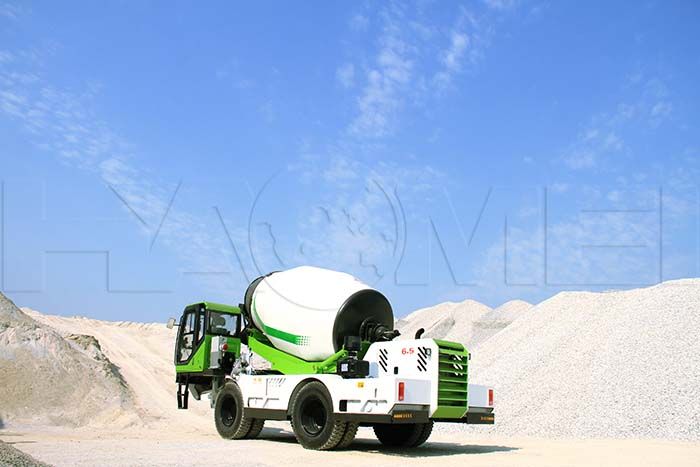 With high automation, its operation is simple. The self loading mixer machine should be parked on the flat ground, and the bucket should be placed on the ground. When the engine is turned off, it is necessary to repeatedly pull the control handle to ensure that the hydraulic cylinders are in a pressure-free resting state.
After self loading cement mixer stops working, the operator puts various handles in the neutral or middle position. Then remove the electric lock key, turn off the main power switch, and finally close the doors and windows. It is strictly prohibited to park in areas with open flames or high temperatures to prevent the tires from exploding due to heat and causing accidents.
At present, the maximum discharging volume of the self loading transit mixer is about 6.5 m3. For large projects, this capacity is obviously not enough. However, if you have many small and temporary projects, it will be an ideal choice. It will be trouble some to build a concrete plant.
The biggest advantage of the self loading concrete mixer is that it integrates mixing and feeding, which is environmentally friendly, clean and easy to move. It saves a lot of time, manpower and production cost for the construction contractors.
Original Source: https://www.self-loading-mixer.com/a/how-to-operate-self-loading-concrete-mixer-truck.html
Tags: self loading concrete mixer for sale
Prev: How to Maintain Self Loading Concrete Mixer
Next: The Application of Self Loading Mixer in Kenya Infrastructure
Send us a Message
*required
Relate Products
CONTACT US
Haomei Self Loading Mixer Co.,Ltd
Tel/Whatsapp: +86-15978414719
Email:
feedom@haomei-machinery.com
Website: https://www.self-loading-mixer.com
Office Add: 1103, No.14 Outer Ring Road, CBD, Zhengzhou, China