The Application of Self Loading Mixer in Kenya Infrastructure

2021-07-20
In this modern era, to meet the increasing concrete need of the infrastructural developments, the construction projects are ongoing at a large scale in every corner. So is the Kenya. Due to its unique climate and insufficient concrete batching plant, the self loading mixer has become a popular choice.
What Is Self Loading Mobile Concrete Mixer and How Dost It Work
The self loading mobile concrete mixer is a construction equipment which realizes concrete mixing and transport at the same time. It has self loading, weighing, mixing, transport and discharging in one. Haomei Machinery has eight models, of which the discharging volume is from 1.2 m3 to 6.5 m3.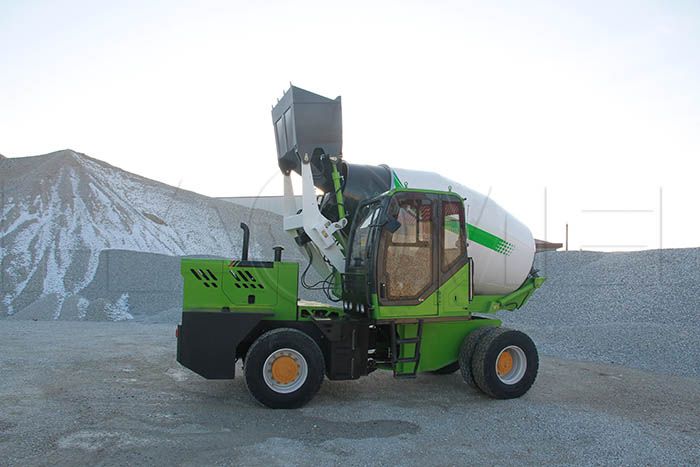 It can be operated by one person. By operating the joystick, the operator can make use of the hydraulic shovel dump the material into the mixing tank. The mixing system r will automatically fill water and mix according to the set ratio. 12 minutes can finish the whole process.
The Infrastructure Projects It Can Undertake
1. Its top two applications are roads and bridges,which seriously depends on the quality concrete . With self weighing and discharging 270 degrees, it not only provides enough concrete, but also applies to the project with less time and cost.
2. Dams, water infrastructure and slope protection. The self loading transit mixer is of four wheel drive, which can crawl on the slope of 30 degrees.
3. Stadium, sporting venues, factory ground hardening.
4. Township and urban construction such as tunnel and self-building house.
5. Airport, rail, transmission line project.
The Challenges Infrastructure Facing to
Backward conditions: The Kenya infrastructure is always in the remote places, which is far away from the city and main roads. The commercial concrete is usually unavailable. A lack of financial planning and power supply is very common. All these problems is just a piece of cake for Haomei self loading mobile concrete mixer.
Skilled workforce shortage: Since the projects is usually in mountainous and remote places, less skilled work force can be found. Due to the workers that mainly come from rural areas, they tend to follow the traditional practice. This self loading concrete mixer only needs one operator.
Project performance: With high automation and stable concrete quality, it saves labor cost and improves construction efficiency. Less budget contributes to the project profit.
Original Source: https://www.self-loading-mixer.com/a/the-application-of-self-loading-mixer-in-kenya-infrastructure.html
Tags: self loading transit mixer price
Prev: How to Operate Self Loading Concrete Mixer Truck
Next: Why Is Self Loading Concrete Mixer So Popular in Kenya
Send us a Message
*required
Relate Products
CONTACT US
Haomei Self Loading Mixer Co.,Ltd
Tel/Whatsapp: +86-15978414719
Email:
feedom@haomei-machinery.com
Website: https://www.self-loading-mixer.com
Office Add: 1103, No.14 Outer Ring Road, CBD, Zhengzhou, China