The Imroved Design of Self Loading Transit Mixer

2021-06-08
The conrete mixer truck is a special truck used to transport concrete for construction. It is equipped with a cylindrical mixing drum to carry the mixed concrete. During transportation, the mixing drum keeps rotating to ensure the concrete will not solidify. After the concrete is transported, the inside of the mixing drum is usually washed with water to prevent the hardened concrete from occupying space.
At present, the unloading of the concrete mixer truck is realized by the reversal of the spiral blade. However, in this case, the mixing material cannot be completely discharged, resulting in residual mixing material at the bottom of the mixing tank, which not only wastes raw materials, but also makes cleaning more inconvenient.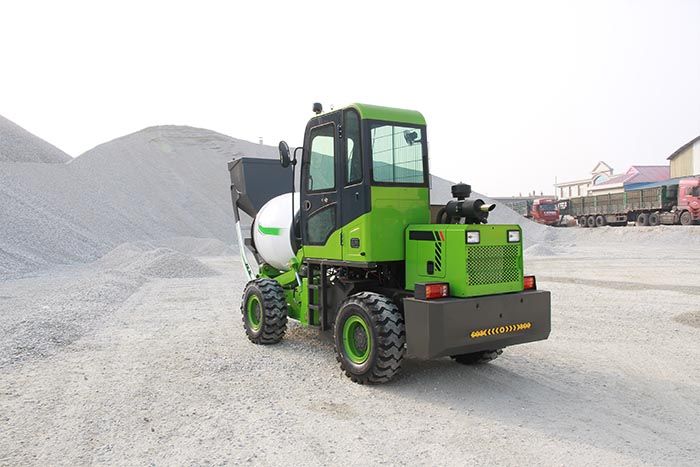 The self loading transit mixer includes a front frame and a rear frame. A steering hinge mechanism is arranged between the front frame and the rear frame. Two steering cylinders in the steering hinge mechanism are hinged with the front frame and the rear frame respectively.
It integrates multiple functions such as automatic quantitative feeding, automatic quantitative water adding, mixing, transportation and automatic unloading. On the basis of front wheel steering and four-wheel drive, an intermediate steering between the front and rear frames is added.
Therefore, the vehicle body has a small turning radius, good maneuverability, easy and flexible turning, convenient and quick control, and accurate unloading under complex operating environments.
However, in actual use, there are still many shortcomings, such as the problem that the concrete at the bottom of the mixing tank cannot be completely discharged, and the feeding device is easily damaged when it is not used.
In order to overcome the above-mentioned shortcomings, a discharging port 1 is provided on the fixed plate, and a discharging port 2 is provided on the movable plate. The opening of the discharging port is fixed downward, and the movable plate 2 rotates to make discharging port two coincides with discharge port one to realize unloading.
The hydraulic shovel is designed into a detachable form, which is placed in the placement slot to prevent damage to the feeding mechanism during driving. Haomei Machiery keeps improve the design of self loading cement mixer to provide better performance. Welcome to leave message below to inquire it.
Original Source: https://www.self-loading-mixer.com/a/the-imroved-design-of-self-loading-transit-mixer.html
Tags: self loading concrete mixer price
Prev: The Synchronously Rotating Cab of Self Loading Concrete Mixer Truck
Next: The Life Cycle of Self Loading Concrete Mixer For Sale Philippines
Send us a Message
*required
Relate Products
CONTACT US
Haomei Self Loading Mixer Co.,Ltd
Tel/Whatsapp: +86-15978414719
Email:
feedom@haomei-machinery.com
Website: https://www.self-loading-mixer.com
Office Add: 1103, No.14 Outer Ring Road, CBD, Zhengzhou, China