What's Mixing System of Self Loading Transit Mixer

2020-07-08
With five in one including self loading, weighing, mixing and transport and discharging, the self loading transit mixer is getting more and more popularity. Compared with the traditional concrete mixer truck, it also has the concrete mixing function. Let's come to know its mixing system together.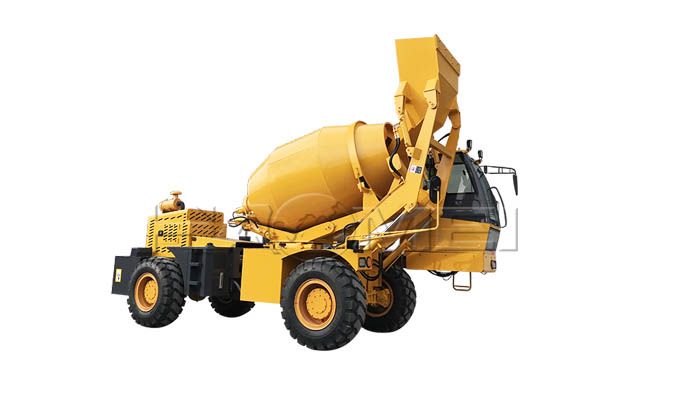 The mixing system of mini self loading concrete mixer consists of a mixing drum and the auxiliary supporting parts. The mixing drum is for loading concrete, which is made of high-quality wear-resistant thin steel plate. In order to be able to automatically load and unload concrete, its inner wall is welded with spiral blades with special shapes.
When rotating, the concrete moves in the spiral direction of the blade, and is mixed during the continuous lifting and turning process. During feeding and transportation, the mixing drum rotates forward and the concrete moves inward along the blade. When discharging, the mixing drum rotate reversely and the concrete is discharged outward along the blade.
The rotation of the mixing drum is driven by the hydraulic parts. The self loading mobile concrete mixer with a loading capacity of 3 to 6 cubic meters generally use a car engine to drive a hydraulic pump through a power output shaft, and then a hydraulic motor is driven by a high-pressure oil to drive a mixing drum.
For a loading capacity of 9 to 12 cubic meters, an on-board auxiliary diesel engine drive the hydraulic pump to drive the hydraulic motor. The blade is the main component of the mixing device. Damage or severe wear will cause uneven mixing of the concrete. In addition, if the angle of the blade is not designed properly, it will also cause segregation of the concrete.
As a special self loading mixer manufacturer, Haomei has eight models. Welcome to inquire self loading mobile concrete mixer price from us.
Original Source: https://www.self-loading-mixer.com/a/whats-mixing-system-of-self-loading-transit-mixer.html
Tags: self loading transit mixer | mini self loading concrete mixer | self loading mobile
Prev: How to Choose Self Loading Mixer for Sale
Send us a Message
*required
Relate Products
CONTACT US
Haomei Self Loading Mixer Co.,Ltd
Tel/Whatsapp: +86-15978414719
Email:
feedom@haomei-machinery.com
Website: https://www.self-loading-mixer.com
Office Add: 1103, No.14 Outer Ring Road, CBD, Zhengzhou, China