Why Is Self Loading Concrete Mixer So Popular in Kenya

2021-07-20
The self loading transit mixer is a kind of equipment that combines he functions of a concrete truck and a concrete mixing plant. It integrates self loading, metering, mixing, transportation, and discharging. It can realize concrete transportation and on-site concrete construction, which greatly improves production efficiency and decreases production time and cost.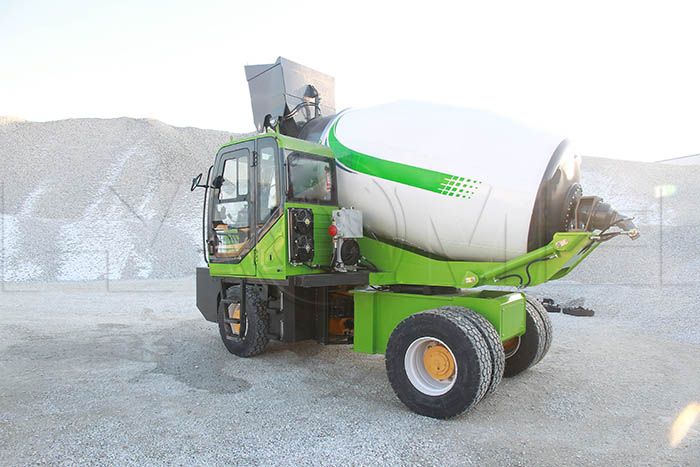 Self Mixing
After the aggregate and cement enter the mixing drum, they can be perfectly mixed by the water flow in the water tank. The unique 4mm "T" type twin shaft ensures the mixing effect and concrete quality. If necessary, it can be equipped with an electronic weighing system. The machine can directly drive to the construction site after loading, and the mixing can be completed during driving.
Automatic Feeding System
Based on the unique articulated hydraulic shovel, the self loading transit mixer can load each raw material easily and accurately. The built-in blade of the bucket can automatically cut the cement bag to avoid the waste of raw materials. All materials can be smoothly and quickly entered into the mixing drum from the bucket, replacing the traditional loading machine. It can make full use of material yard area.
Automatic Discharging System
It can discharge over driving. With 270 degrees discharging, it is convenient and quick to unload where it is needed. The operation is also very simple, which can be finished by one joystick.
Easy Transfer
The four-wheel drive hydraulic transmission device and good configuration enable the self loading mixer to crawl on a steep slope of 30° under full load. Equipped with a center of gravity transfer system, the center can be moved back and forth during uphill and downhill, which can effectively increase overall safety.
Comfortable Operating Environment
Equipped with a fully equipped cab, the operator can be immediately familiar with all the main operations. The addition of the air conditioning system can make the working in high temperature environments not a problem any more. The anti-rolling and anti-falling object protection systems improve the overall safety protection for drivers in harsh construction environments and road conditions.
Wide Application
The self loading concrete mixer truck is suitable for engineering construction in various special environments, crowded urban areas and remote areas. It can be used in concrete road maintenance, bridge and tunnel construction, township-level road construction, house building,etc. It also has a lighting system that can be used for driving and construction at night, which can realize 24-hour construction operation. Welcome to leave message below to inquire the self loading concrete mixer price below.
Original Source: https://www.self-loading-mixer.com/a/why-is-self-loading-concrete-mixer-so-popular-in-kenya.html
Tags: self loading transit mixer price
Prev: The Application of Self Loading Mixer in Kenya Infrastructure
Send us a Message
*required
Relate Products
CONTACT US
Haomei Self Loading Mixer Co.,Ltd
Tel/Whatsapp: +86-15978414719
Email:
feedom@haomei-machinery.com
Website: https://www.self-loading-mixer.com
Office Add: 1103, No.14 Outer Ring Road, CBD, Zhengzhou, China