How to Prevent Self Loading Concrete Machine From Sticking

2020-07-01
When using self loading concrete machine, some customers reflects that the tank body is getting smaller and smaller. The reason is that the concrete material is stuck to the wall of the tank without cleaning.
After the long use of self loading mixer, sometimes the inside space of the mixing drum will become smaller and smaller due to the inadequate cleaning of the tank body. This will undoubtedly affect our normal use. How to prevent the concrete sticking?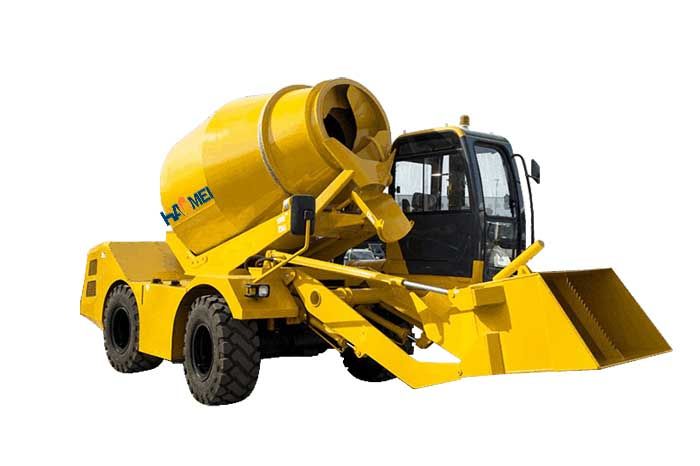 1. Check the concrete quality before leaving the factory
May be due to different raw materials, each batch of concrete quality will be different. When feeding the concrete and leaving the site, be sure to check the slump of the concrete in the tank in case of consolidation and education.
2. Check the amount of water in the water tank
Every time when the driver gets back, check the water volume in the water storage tank to keep it full at any time to prepare for unexpected needs.
3. Reduce transportation time as much as possible
The concrete transportation distance is generally within 30 kilometers in diameter. The driver had better plan the route and have a good knowledge of the traffic situation before leaving the vehicle. Try to choose a short route and a good road condition to drive.
4. Unload to reduce losses in case of accidents
If you encounter man-made factors or majeure factors that make it impossible to unload the material for a long time, you should always check the concrete in the tank. Once the concrete is found to start to set, unloading should be carried out immediately after reporting to the person in charge.
If you like to buy a self loading concrete mixer, welcome to leave message blow or email us to get the self loading mobile concrete mixer price.
Original Source: https://www.self-loading-mixer.com/a/how-to-prevent-self-loading-concrete-machine-from-sticking.html
Tags: self loading concrete machine | self mixing concrete truck | self loading mobile con
Prev: How Long Is The Life Span of Self Mixing Concrete Truck
Send us a Message
*required
Relate Products
CONTACT US
Haomei Self Loading Mixer Co.,Ltd
Tel/Whatsapp: +86-15978414719
Email:
feedom@haomei-machinery.com
Website: https://www.self-loading-mixer.com
Office Add: 1103, No.14 Outer Ring Road, CBD, Zhengzhou, China