How to Buy A Self Loading Concrete Mixer for Your Project

2020-12-03
There are many models of self loading concrete mixers. Each model has specific functions and advantages to meet the requirements of different construction sites. For example, the road conditions of the your construction sites are rough and uneven, you need a self loading mixer with 4x4 wheel drive. The purchase of self loading concrete mixer comprehensively analyze these basic elements: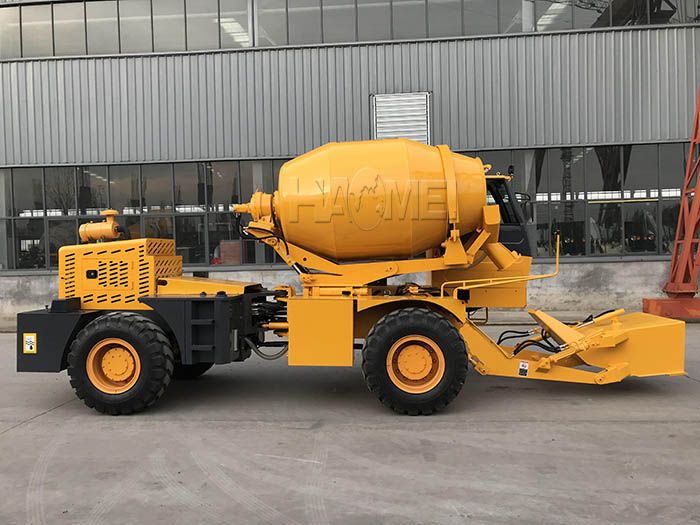 1. Concrete demand
It is an important factor to decide which model is suitable. The capacity of self loading mixer machine ranges from 6 to 30 m3/h. According to the 8 working hours per day, its capacity is 48-240 m3/day and yearly output is 17,640 to 86,400 m3.
2. Construction site
If it is located on a plateau, a special engine for the plateau pressure and climate is need to ensure its stale working performance. If the roads are too narrow, we should consider the self loading concrete mixer with a cab having a 180 degree rotation function, so that it can return normally even without turning its head.
3. Performance of self loading transit mixer
We should have a comprehensive consideration of the advancedness, reliability, superiority and versatility of a self loading transit mixer. A quality self loading transit mixer should have high weighing accuracy, good mixing work quality, high production efficiency, and low energy resource consumption.
4. Cost performance
As we have mentioned, for meeting the requirements of different construction sites, the configuration is not always the same. It is unwise to simply pursue the technical level or the cheapest price. The one for your projects is the most proper. Haomei Machinery is a professional self loading concrete mixer manufacturer. Welcome to contact us directly for the suggestions and self loading concrete mixer price.
Original Source: https://www.self-loading-mixer.com/a/how-to-buy-a-self-loading-concrete-mixer-for-your-project.html
Tags: self loading concrete mixer | self loading concrete mixer price | self loading concrete mixer manufacturers
Prev: The Cleaning Tips from Self Loading Concrete Mixer Manufacturers
Send us a Message
*required
Relate Products
CONTACT US
Haomei Self Loading Mixer Co.,Ltd
Tel/Whatsapp: +86-15978414719
Email:
feedom@haomei-machinery.com
Website: https://www.self-loading-mixer.com
Office Add: 1103, No.14 Outer Ring Road, CBD, Zhengzhou, China