The Cleaning Tips from Self Loading Concrete Mixer Manufacturers

2020-12-02
The self loading concrete mixer integrates self loading, metering, mixing and discharging in one, which can realize concrete transportation and on-site concrete construction operations. So how often is it appropriate to clean up the mixing system of equipment?
The mixing system should be cleaned at least once in a working cycle. After the daily production activities are over, the mixing system should be cleaned more comprehensively. The method is: during the cleaning process, put water and a little amount of stones into the mixer and stir for 5-10 minutes.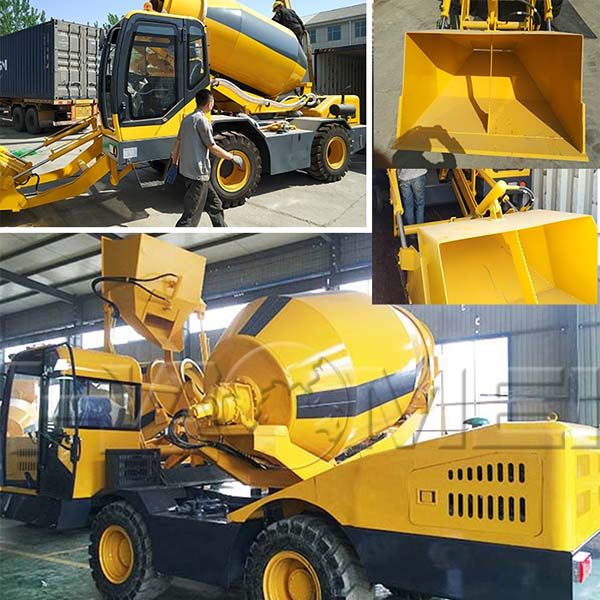 After cleaning, the materials in the mixers are all removed. There should be no accumulation of water or material. Flush the pipeline after stopping the machine and remove the dust and adhered concrete inside and outside the mixing tank.
When flushing the material door of the mixing system, avoid the phenomenon of foreign matter jamming the material door due to the accumulation of material under the upper washing. During the mixing process, if the self loading mobile concrete mixer is no longer in use for a long time, the mixing system should be cleaned with water.
it is necessary to regularly check the solidification of the concrete in the mixing drum and on the mixing shaft. If there is condensation, it should be manually removed in time as required. Before manually cleaning the mixing drum, you must cut off the power supply and pneumatic system; when cleaning the mixing drum manually, it is strictly forbidden to strike the mixing shaft, mixing arm and mixing blade.
Haomei Machinery is a special self loading concrete mixer manufacturer. We have complete models of self loading mobile concrete mixers. Welcome to leave message below to get a quote.
Original Source: https://www.self-loading-mixer.com/a/the-cleaning-tips-from-self-loading-concrete-mixer-manufacturers.html
Tags: self loading concrete mixer manufacturers | self loading concrete mixer | self loading mobile concrete mixer
Prev: How to Choose Self Loading Mixer Truck
Next: How to Buy A Self Loading Concrete Mixer for Your Project
Send us a Message
*required
Relate Products
CONTACT US
Haomei Self Loading Mixer Co.,Ltd
Tel/Whatsapp: +86-15978414719
Email:
feedom@haomei-machinery.com
Website: https://www.self-loading-mixer.com
Office Add: 1103, No.14 Outer Ring Road, CBD, Zhengzhou, China