The Main Functions of Self Loading Concrete Mixer Truck For Sale

2020-10-12
The self loading concrete mixer truck for sale is suitable for engineering construction in various special environments, crowded urban areas and remote areas. At the same time, in addition to commercial concrete mixing plants and concrete mixer, it is another high-efficiency and low-cost concrete mixing method for the customers to choose to replace them. Let's have a look of its main fuctions.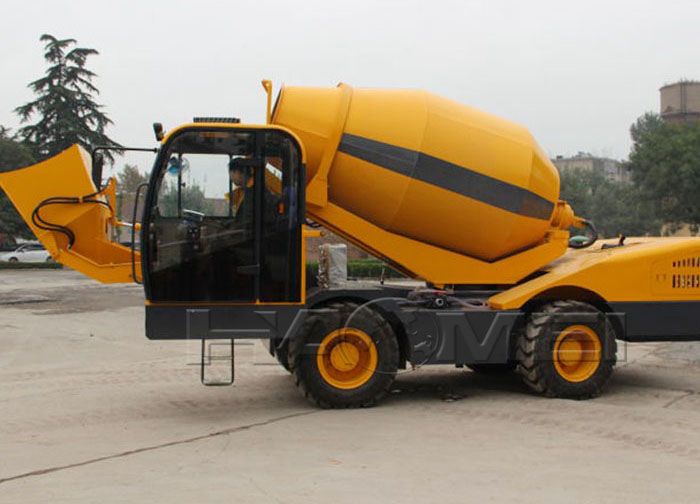 Self loading: The hinged hydraulic shovel can load easily and accurately. The built-in blade of the bucket can automatically cut the cement bag to avoid the waste of raw materials. All the ingredients can enter the mixing drum smoothly and quickly from the bucket.
Mixing: The automatic pressurized water flow in the mixing drum after the aggregate and cement enter the mixing drum.Then they are fully mixed by he the special double screw blades, ensuring concrete quality and mixing efficiency.
Transport: Four-wheel drive hydraulic transmission device and good configuration is suitable for the transportation on any road condition. The self loading cement mixer can crawl on a slope of 30 degree under full load.
Discharge: The operator can dump concrete in 4 directions around the vehicle with a height of 2m or more through the 270 degree rotating mixing drum by using a jobstick.
Driving cab: Haomei self loading mixer has a well-equipped driving cab with simple operation design and a jobstick designed according to ergonomics. The driver can control all main operations with a single handle.
Safety: It is equipped with anti-rolling and anti-falling protection system, so that the equipment can improve the overall safety protection for the driver in the harsh construction environment.
As a professional self loading concrete mixer suppliers, Haomei Machinery has eigh models for you to choose from. Welcome to leave message below to get the quotation.
Original Source: https://www.self-loading-mixer.com/a/the-main-functions-of-self-loading-concrete-mixer-truck-for-sale.html
Tags: self loading concrete mixer truck for sale | self loading concrete mixer suppliers | .self loading cement mixer
Prev: Self Loading Concrete Mixer Trucks in Rural Areas
Next: An Analysis from Self Loading Concrete Mixer Manufacturers
Send us a Message
*required
Relate Products
CONTACT US
Haomei Self Loading Mixer Co.,Ltd
Tel/Whatsapp: +86-15978414719
Email:
feedom@haomei-machinery.com
Website: https://www.self-loading-mixer.com
Office Add: 1103, No.14 Outer Ring Road, CBD, Zhengzhou, China