What Are Features of Self Loading Transit Mixer

2021-07-27
With four wheel drive, the self loading transit mixer can drive freely in the mountainous area or rural areas. 30-degree slope is just a piece of cake for the self loading concrete mixer. It is mainly used in construction field and aquaculture.
In the construction field, it has self loading, intelligent formula an self mixing, which can greatly improve construction efficiency and shorten the construction period. Its another main use is the mixing of feed. Some large-scale feed factories can also use this for feed mixing, which saves time and labor.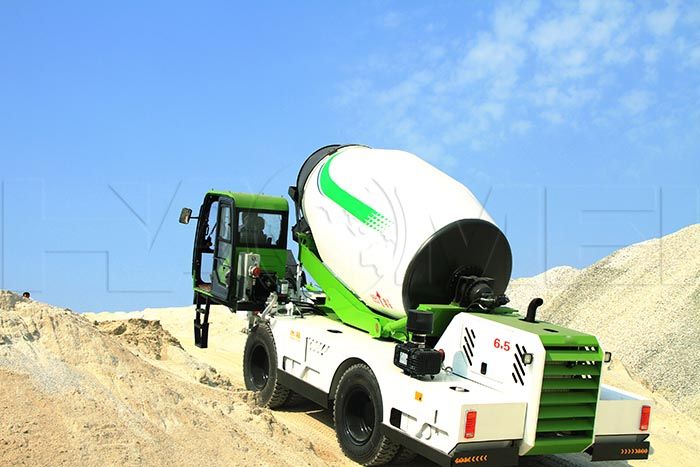 To own reliable and advanced function, Haomei self loading concrete mixer for sale is equipped with a German original imported Rexroth hydraulic pump and a 10-ton hydraulic bridge, which is easy to handle a variety of road conditions. The inlet and outlet adopts the rotary sealing technology. In terms of vehicle cleaning, it can use the high-pressure water guns, which can easily clean the entire vehicle.
In addition to this, Haomei self loading concrete mixer truck has reliable control mechanism. The operating mechanism needs to control the oil pump installed on the body and the throttle of the engine. The operating mechanism regulates the forward and reverse rotation of the tank body by controlling the pull rod of the oil pump.
Drivers often fail to notice the operation of the tank body when driving. The the operating handle locking mechanism in the cab is added to ensure the normal rotation of the tank body. The operating mechanism is unavoidable to be damaged, so it is necessary to facilitate maintenance and troubleshoot in time. Welcome to leave message below to inquire self loading transit mixer price.
Original Source: https://www.self-loading-mixer.com/a/what-are-features-of-self-loading-transit-mixer.html
Tags: self loading concrete mixer for sale
Prev: Self Loading Mobile Concrete Mixer VS Concrete Truck
Send us a Message
*required
Relate Products
CONTACT US
Haomei Self Loading Mixer Co.,Ltd
Tel/Whatsapp: +86-15978414719
Email:
feedom@haomei-machinery.com
Website: https://www.self-loading-mixer.com
Office Add: 1103, No.14 Outer Ring Road, CBD, Zhengzhou, China