How to Operate Self Concrete Mixer Machine

2020-04-17
Compared with traditional concrete mixer, the self loading concrete mixer is very powerful. It not only can mix and transport, but also can self feed. The driver can finish the whole process by operating in the cab.
What's more, if there is a short distance from the construction site, the self concrete mixer machine can do the mixing during the transportation and discharge a batch in about 12minutes.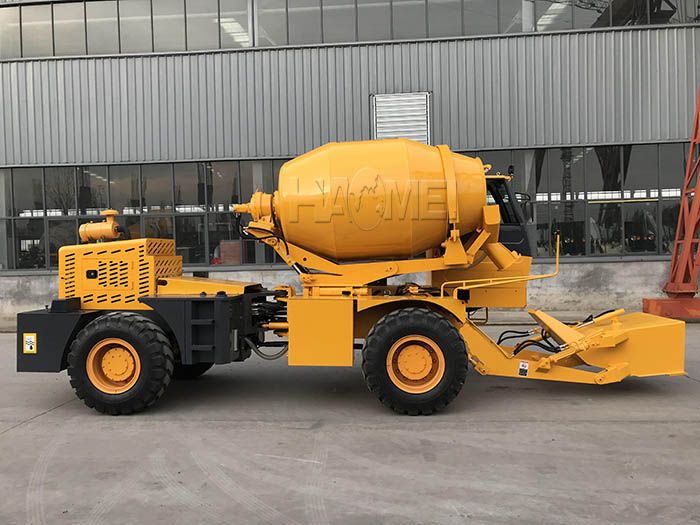 With such powerful and convenient function, the self loading concrete mixer price is relatively lower compared with mobile concrete mixing plant or the total cost of concrete mixer and concrete truck.
After buying one, how to operate it? The operation is very simple.
1. Before operation, the driver should ensure every part is in normal state and observe whether the surrounding environment is of potential safety hazard.
2. Then the drive can enter the cab, adjust the seats, and drive the mixer truck.
3. After filling the water tank, the driver controls the bucket to load the sand and the cement into the drum and then to load the aggregate.
4. Then, you can drive the self batching concrete mixer to the construction site. After the mixing is completed, use the joystick to rotate the mixing tank to discharge at the construction site.
5. After ending the work, use the automatic flushing function of the mixer to thoroughly clean the tank body of the mixer.
It is the specific operation flow of self concrete mixer machine. We must keep in mind that the self mixing concrete truck must be thoroughly cleaned, otherwise the remaining concrete will solidify in the tank and affect the mixing the next day.
In addition, if the customers really have have difficulties in actual operation, The technical staff of Haomei Machinery will teach you how to operate it. For those who do not have any experience in operation, it usually take one day to grasp all the operation skills.
Original Source: https://www.self-loading-mixer.com/a/how-to-operate-self-concrete-mixer-machine.html
Tags: self concrete mixer machine | self loading concrete mixer | self loading concrete mi
Prev: How Is The Self Loading Concrete Mixer Born
Next: The Safety Design of Self Loading Mobile Concrete Mixer
Send us a Message
*required
Relate Products
CONTACT US
Haomei Self Loading Mixer Co.,Ltd
Tel/Whatsapp: +86-15978414719
Email:
feedom@haomei-machinery.com
Website: https://www.self-loading-mixer.com
Office Add: 1103, No.14 Outer Ring Road, CBD, Zhengzhou, China