The Operation Guide of Self Loading Mixer Machine

2021-07-27
The self loading mixer machine is widely used in most small construction projects such as mountain roads, bridge, tunnel, slope protection, transmission line, house building, water conservancy project, ground hardening. Why is it so useful?
This self loading concrete mixer can independently complete the functions of loading, mixing, transportation and unloading, replacing loaders, mixers, transport vehicles, generator sets, etc. It saves at least 10 minutes for water feeding in the tank. It only takes 12 minutes from feeding to discharging. The mixing tank can rotate 270 degrees, which can realize multi-directional discharge without moving. There is a share of operation guide of the self loading concrete mixer machine.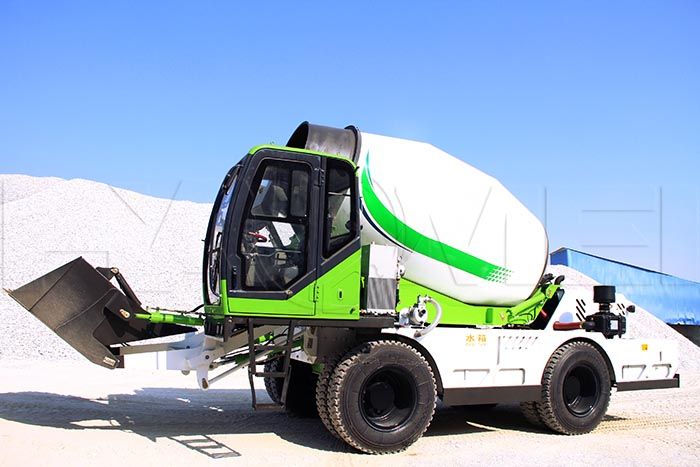 1. The self loading mixer should be implemented with secondary leakage protection. After the power is turned on before starting working, it must be carefully inspected. During the trial run, check whether the speed of the mixing drum is appropriate. Under normal circumstances, the empty car speed is slightly faster than the heavy car (after loading) by 2 to 3 revolutions.
2. The rotation direction of the mixing drum of the self loading concrete mixer for sale should be in accordance with the direction indicated by the arrow. If it is not true, the motor wiring should be corrected.
3. When the self loading transit mixer has finished mixing or is expected to stop for more than 1 hour, besides complete discharging, the operator needs to feed the mixing drum with stones and water to rinse the residue sticking to the barrel and discharge it all.
4. After start working, pay attention to whether the various parts of the self loading mixer truck are operating normally. When shutting down, always check whether the blades of the mixer are bent and whether the screws are knocked off or loose.
5. After get off work and when the machine is not in use, the switch should be turned off and the switch box should be locked to ensure safety.
Original Source: https://www.self-loading-mixer.com/a/the-operation-guide-of-self-loading-mixer-machine.html
Tags: self loading concrete mixer for sale
Prev: What Are Features of Self Loading Transit Mixer
Send us a Message
*required
Relate Products
CONTACT US
Haomei Self Loading Mixer Co.,Ltd
Tel/Whatsapp: +86-15978414719
Email:
feedom@haomei-machinery.com
Website: https://www.self-loading-mixer.com
Office Add: 1103, No.14 Outer Ring Road, CBD, Zhengzhou, China