Self Loading Mixer China: Developing Trend of Concrete Mixer Truck

2020-10-22
The concrete mixer truck is a landmark product of engineering vehicles. In terms of product structure, domestic mixer truck mixing capacity has developed diversified, including large, medium and small capacity, to meet the needs of different occasions and different project scales.
That's why the self loading mixer China is born. It just makes up for the need for small volume concrete mixing. In addition, its popularity is also owed to its superior performance. It has self loading, weighing, mixing, discharging and transport in one. With four wheel drive, it can go anywhere.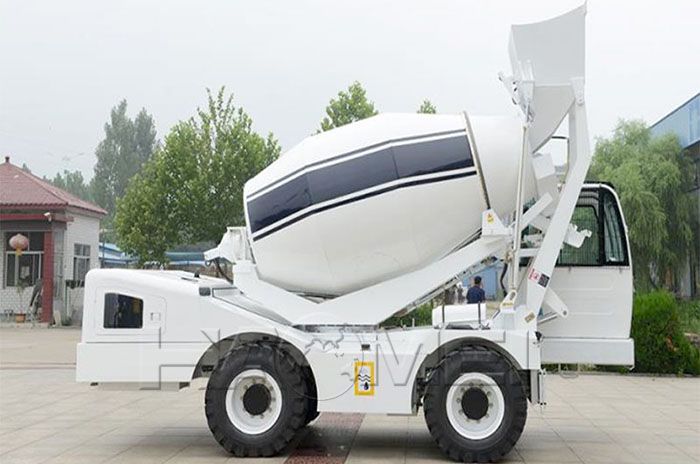 Based on the development situation at home and abroad, the future concrete mixer truck will develop in the direction of diversification, light weight, humanization and high added value.
Product diversification
Due to the increasingly wide range of service objects of mixer trucks (urban, transportation, water conservancy, rural, mining, etc.) and professionalism, it has formed the characteristics of multiple varieties and modularization, including chassis brand and type, mixing volume, loading and unloading method, price, etc.
Lightweight
Concrete mixer trucks in developed countries and regions such as Europe and the United States adopt more lightweight technologies and are diversified in variety, which can meet the individual needs of different customers.
Humanization and safety
The chassis and bodywork are becoming more and more humane, including comfort, handling, safety (including braking, collision limit, anti-rolling, etc.), reliability, and environmental protection.
The self loading concrete mixer just meet all these developing trends. Its mixing capacity is from 1.2 m3 to 6.5 m3. The cute body makes it drive smoothly on most roads. All the operation can be finished by one joystick. Its high automation can help lessen the labor cost and production cost. Welcome to leave message below to get the self loading concrete mixer price.
Original Source: https://www.self-loading-mixer.com/a/self-loading-mixer-china-developing-trend-of-concrete-mixer-truck.html
Tags: self loading mixer china | self loading transit mixer | self loading concrete mixer price
Prev: How to Operate Self Loading Mixer China Correctly
Next: How About the Efficiency of Self Loading Mixer x1100rh
Send us a Message
*required
Relate Products
CONTACT US
Haomei Self Loading Mixer Co.,Ltd
Tel/Whatsapp: +86-15978414719
Email:
feedom@haomei-machinery.com
Website: https://www.self-loading-mixer.com
Office Add: 1103, No.14 Outer Ring Road, CBD, Zhengzhou, China