How Does Self Mixing Concrete Truck Improve Construction Efficiency

2022-12-14
The self mixing concrete truck integrates loading, mixing, transportation and unloading. It has the characteristics of narrow body, short wheelbase, small turning radius and other personalized designs. At present, it is widely used in urban construction roads, rural road construction, bridges, houses, water conservancy projects,etc.
Its stable body and four-wheel steering have strong off-road performance, which make it flexibly operated in various construction environments such as mountains, plateaus, and basins. The self loading concrete mixer truck is equipped with a 92kw high-horsepower engine with strong power and fuel economy and equipped with 1670-20 solid tires. The all-wheel drive can distribute the output torque of the engine to all the front and rear wheels according to the different conditions of the road surface.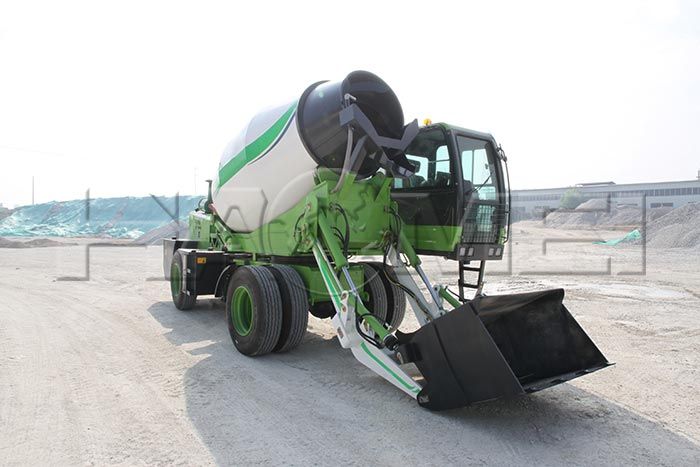 According to the different volumes, the daily productivity of Haomei self loading transit mixer is about 50-200 cubic meters. Customers can choose according to the daily volume of concrete required. Of course, different models also have different configurations. The air conditioning configurations , automatic lubrication system, electronic weighing, and tank rotation functions are all freely chosen.
Everyone knows that in a mechanical vehicle, the seat affects the comfort of the operation and also affects the fatigue intensity of the driver. A good seat can bring the driver a suitable sitting posture, which is related to the safety of operation.
Haomei engineers upgraded all the seats to airbag seats according to the principle of human-machine friendly relationship. Under the action of the double tubes of airbags and springs, the shock absorption effect is excellent, especially suitable for high-intensity operations and extreme environments while relieving driver fatigue.
To ensure concrete quality, our self loading mixer truck is equipped with automatic weighing systems. The proportion of raw materials for concrete production can be calculated scientifically, and the quality of concrete produced according to the standard amount of raw materials is better.
Original Source: https://www.self-loading-mixer.com/a/how-does-self-mixing-concrete-truck-improve-construction-efficiency.html
Tags: self loading concrete mixer truck
Prev: An Overview of Self Loading Concrete Truck Mixer
Send us a Message
*required
Relate Products
CONTACT US
Haomei Self Loading Mixer Co.,Ltd
Tel/Whatsapp: +86-15978414719
Email:
feedom@haomei-machinery.com
Website: https://www.self-loading-mixer.com
Office Add: 1103, No.14 Outer Ring Road, CBD, Zhengzhou, China