What Can the 2.0 Cubic Self Loading Concrete Mixer Truck Used for

2020-04-08
The overall size of the HM2.0 cubic self loading concrete mixer truck is 4800*2200*3150 mm. Since the overall width of the self mixer is about 2.2 meter, it can walk on most roads at home or abroad.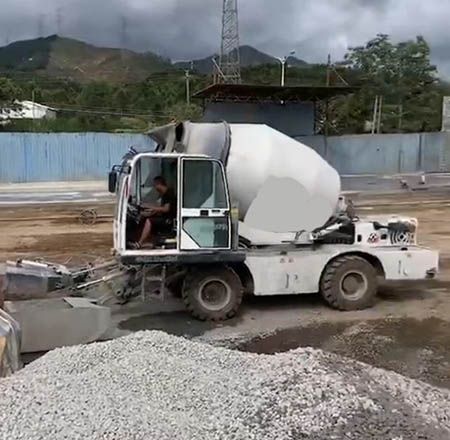 It is an irreplaceable mixer for those narrow construction sites such as rural road construction. In addition to its cute body, its 270 degree discharging and 180 degree rotating driving cab makes it a very practical machine in rural, mountain and urban area.

More importantly, 2.0 self loading mixer is a fully automatic machine from loading to discharging. Some may wonder how to load cement with this machine. The unique design of the bucket, the serrated blade inside, can easily cut off the cement bag and the worker only need to throw the cement into the bucket.
Besides the design of the serrated blades, the improved shovel teeth contributes to less resistance and quicker feeding. The automatic design can effectively relief the shorten of labor in the remote places.
According to the capacity and eight-hour working system, the 2.0 self loading concrete mixer can produce about 70 cubic meters. It is also very useful for projects that do not have a lot of work per day.
Four wheel drive and powerful motor makes the self batching mixer truck go anywhere and have good working performance even in those places with backward electric power, not to mention the small problems of rugged roads. The HM2.0 self loading transit mixer price is within 20000 dollars. If you like to know the latest price with standard configuration, welcome to contact us directly.
Original Source: https://www.self-loading-mixer.com/a/what-can-the-20-cubic-self-loading-concrete-mixer-truck-used-for.html
Tags: self loading concrete mixer truck | self loading transit mixer price | self loading
Prev: The Application Cases of Self Loading Concrete Mixer Machine
Next: How About the Efficiency of Self Loading Concrete Mixer Truck
Send us a Message
*required
Relate Products
CONTACT US
Haomei Self Loading Mixer Co.,Ltd
Tel/Whatsapp: +86-15978414719
Email:
feedom@haomei-machinery.com
Website: https://www.self-loading-mixer.com
Office Add: 1103, No.14 Outer Ring Road, CBD, Zhengzhou, China