The Pros and Cons of Self Loading Concrete Mixer Truck

2020-07-14
As a popular construction equipment, the self loading concrete mixer truck plays an important role in projects such as road construction, bridge construction, building construction, ground hardening,etc. It is favored by many engineers. Let's come to know about the pros and cons of the self loading mixer.
The advantages of self loading mobile concrete mixer:
1. It is of high automation with self loading, weighing,mixing, transport and discharging in one, which greatly simplify the concrete production process.
2. Labor saving. One or two workers can finish the whole process from the loading to the pouring. One is the operator, the other is to assist that worker.
3. Cost saving. With less labor required, the labor cost will be greatly reduced. High efficiency and lower price of raw material compared with commercial concrete will save a lot of construction cost.
4. Strong practicability. Whether it is for roads construction, house building, ground hardening or slop protection, the self mixing concrete truck can make it. In addition, it has good working performance in mountain areas because of strong power, low torque and four-wheel driving.
5. High safety. With reasonable structure and weight design, the self loading concrete mixer can climb the slope safely and easily.
The disadvantages of self loading transit mixer: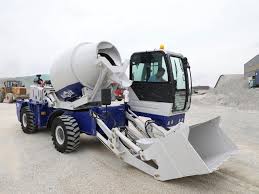 1. The volume of the self loading transit mixer is generally not very large. At present, the popular models are 2- 4 cubic meter. The largest model of Haomei self loading mixer is 6.5 cubic meter. Therefore, it is generally suitable for the small and medium projects.
2. Large wear. Because of the high operating frequency and high operating intensity, the mixing tank of the self loading mixer machine needs to rotate from time to time, which causes the problem of friction between the mixing tank and the tray.
3. It cannot be transported over long distances. The speed of the self loading cement mixer is limited, which only supports short-distance transportation. If the distance of two project sites are too far, you need a logistics transport vehicle to transport it to the next destination.
If most of your projects are small and medium, the self loading mixer will be a good choice. As for the wear problem, Haomei Machinery has found a perfect solution: the tug rocking technology. It helps to reduce wear of the two parts and prolong the service life.
Original Source: https://www.self-loading-mixer.com/a/the-pros-and-cons-of-self-loading-concrete-mixer-truck.html
Tags: self loading concrete mixer truck | self loading mobile concrete mixer | self loadin
Prev: The Wide Application of Self Batching Concrete Plant
Send us a Message
*required
Relate Products
CONTACT US
Haomei Self Loading Mixer Co.,Ltd
Tel/Whatsapp: +86-15978414719
Email:
feedom@haomei-machinery.com
Website: https://www.self-loading-mixer.com
Office Add: 1103, No.14 Outer Ring Road, CBD, Zhengzhou, China