Self Loading Concrete Mixer Machine in South Africa

2021-07-06
Due to the particularity of overseas projects such as natural environment, if we want to improve construction efficiency and reduce project costs, how to improve mechanization will be an effective solution. Haomei self loading concrete mixer machine has been exported to South Africa for many projects such as road construction.
The road project is of long line and undulating terrain. There is no commercial concrete plant nearby. In addition, the rain seasons has a great impact on material transportation. It is difficult for ordinary vehicles to drive in the mountainous areas.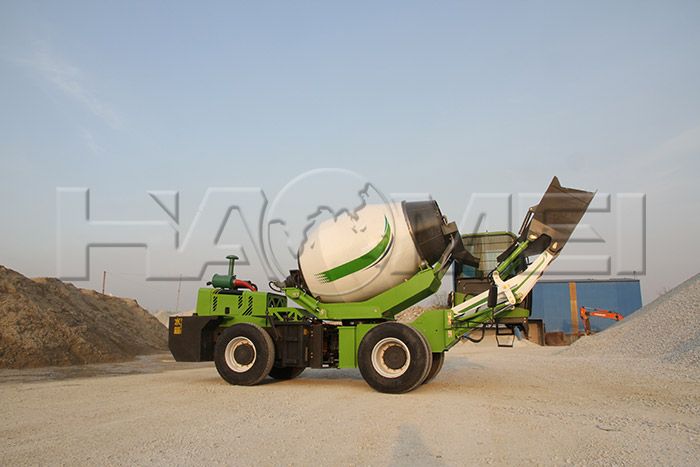 According to static input analysis, building a stationary concrete plant or mobile concrete mixing plant is much expensive than buying a self loading concrete mixer and the dynamic input cost is not included.
A concrete batching plant usually covers the range of 50-80 km. In order to meet the continuity of concrete pouring, several concrete mixer trucks have to be put into transportation. If we want to shorten the radiation range, frequent transfer is needed, which is troublesome. The self loading mixer solves these problems perfectly.
Because of high automation, the self loading transit mixer only needs two worker to cooperate with each other. It is of four wheel drive, which can pass even when the road is slipping, and has good off-road performance. It can also discharge 270 degree,which can pour concrete over driving, improving construction efficiency.
With industrial scale and hydraulic sensor, it can ensure the accurate ration, thus guaranteeing the concrete quality. Compared with traditional concrete mixer, its working efficiency only decreases by about 20% in the rainy season. Besides, it doesn't require large space like the concrete batching plant.
HM3.5 self loading mobile concrete mixer is enough for most projects in South Africa. Lets have a look of its mechanical parameters:
1. Engine: Yuchai 4105. Its engine power is 78kw/106ps.
2. Tank Volume: 4740L. The concrete output is 3.5m3/batch.
3. Control system: It adopts full computer control. With industrial scale, we can completely ensure the accurate ratio.
4. Feeding system: The hopper has a capacity of 600 liters and is equipped with hydraulically operated doors that can be opened and closed.
5. Walking system: It is equipped with industrial off-road tires and four wheel drive.
6. Haomei self loading concrete mixer price is very competitive. Welcome to leave message below to inquire it.
Original Source: https://www.self-loading-mixer.com/a/self-loading-concrete-mixer-machine-in-south-africa.html
Tags: self loading mixer for sale
Prev: The Highlight of Self Loading Concrete Mixer
Next: The Manual Guide of Self Loading Concrete Mixer for Sale
Send us a Message
*required
Relate Products
CONTACT US
Haomei Self Loading Mixer Co.,Ltd
Tel/Whatsapp: +86-15978414719
Email:
feedom@haomei-machinery.com
Website: https://www.self-loading-mixer.com
Office Add: 1103, No.14 Outer Ring Road, CBD, Zhengzhou, China