The Highlight of Self Loading Concrete Mixer

2021-07-06
The self loading concrete mixer is a kind of equipment that combines the functions of a concrete truck and a stationary concrete batching plant, realizing concrete transportation and on-site concrete construction operations. In order to reach such purpose, it integrates self loading, weighing, mixing, transport and discharging. This has greatly improved production efficiency and reduced production time and cost.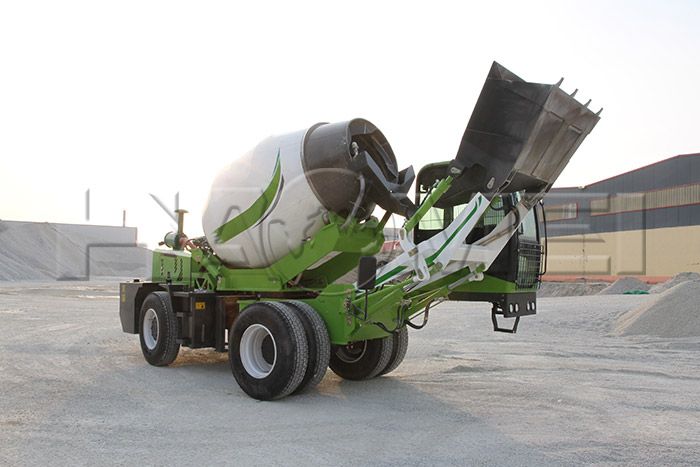 Loading
Based on the unique articulated hydraulic shovel, the aggregate can be loaded easily and accurately. The built-in blade of the bucket can automatically cut the cement bag to avoid the waste of raw materials. All the raw materials can enter the mixing drum smoothly and quickly from the bucket.
Mixing
After the aggregate and cement enter the mixing drum, they can be perfectly mixed through the automatic pressurized water flow in the water tank. The unique double screw blade ensures the mixing effect and concrete quality. Electronic weighing system can be equipped.
Transportation: The four-wheel drive, hydraulic transmission and good configuration can be suitable for transportation in any site, so that it can drive on a slope of 30 degree under a fully loaded state.
Discharge: The operator can dump concrete in 4 directions around the vehicle with a height of 2m or more through the 270°rotating mixing drum using the operating lever.
Cab
There is a fully equipped cab with a joystick designed according to the principles of ergonomics. The driver can control all major operations with a single handle.
Safety
Equipped with anti-rolling and anti-falling object protection system, so that it can improve the overall safety protection for the driver in the harsh construction environment and road conditions.
The self batching concrete truck is suitable for engineering construction in various special environments, crowded urban areas and remote areas. It can be used in concrete road maintenance, bridge and tunnel construction, township road construction, national defense facility,etc.
At the same time, in addition to commercial concrete mixing plant and concrete mixers, the self batching concrete truck provides the customers another high-efficiency and low-cost concrete mixing construction method. Welcome to leave message below to inquire what you need.
Original Source: https://www.self-loading-mixer.com/a/the-highlight-of-self-loading-concrete-mixer.html
Tags: self loading mixer for sale
Prev: The Development History of Self Loading Mixer for Sale
Send us a Message
*required
Relate Products
CONTACT US
Haomei Self Loading Mixer Co.,Ltd
Tel/Whatsapp: +86-15978414719
Email:
feedom@haomei-machinery.com
Website: https://www.self-loading-mixer.com
Office Add: 1103, No.14 Outer Ring Road, CBD, Zhengzhou, China