The Self Loading Concrete Mixer Truck for Road Construction

2020-09-16
In the road construction, concrete pouring is a necessary step. How to finish this work with high efficiency? There is a good road construction machine, that is, the self loading concrete mixer. What are its advantages?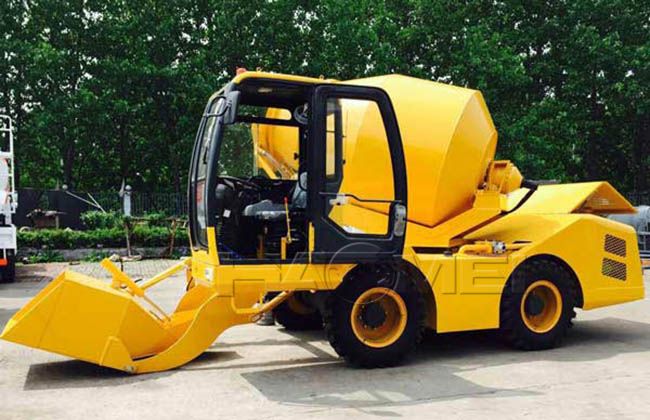 1. Have a complete control of concrete production
If we buy the commercial concrete from concrete batching plant, there are always a long period to wait for the concrete mixer truck to arrive. If the time is long, the concrete in the concrete mixer truck will have the risk of solidification.
With the self loading concrete mixer truck, you don't need to wait and can pour the concrete whenever and wherever you want.
2. Save labor and production cost
Compared the high price of commercial concrete, the raw material cost of concrete is much cheaper. The self loading concrete mixer price is very economic. With such a construction machine, the production cost can be saved a lot. In addition, with high automation, two worker is enough to finish a small project.
3. It can go anywhere
If you like to use commercial concrete, there must be a commercial concrete plant around you. If the project is in the mountains, it is difficult to reach the concrete mixer truck. But the self loading concrete mixer truck is difficult. It has a small body, stable climbing and strong power, which can drive on any road conditions.
4. Strong adaptability
The self loading concrete mixer has 270 degree discharging. In addition, it can be equipped with a rotatable cab. Both these can help you applicable for most narrow construction sites. Welcome to leave message below to inquire self loading concrete mixer machine price.
Original Source: https://www.self-loading-mixer.com/a/the-self-loading-concrete-mixer-truck-for-road-construction.html
Tags: self loading concrete mixer truck | self loading concrete mixer machine price | self loading concrete mixer
Prev: How Does Self Loading Concrete Mixer For Sale In USA Work
Send us a Message
*required
Relate Products
CONTACT US
Haomei Self Loading Mixer Co.,Ltd
Tel/Whatsapp: +86-15978414719
Email:
feedom@haomei-machinery.com
Website: https://www.self-loading-mixer.com
Office Add: 1103, No.14 Outer Ring Road, CBD, Zhengzhou, China