Can Self Loading Mixer Replace Concrete Batching Plant

2021-12-29
For the construction contractor, to reduce the investment on construction equipment is very necessary to decrease risk. For meeting this need, the self loading mixer for sale is born. Can it replace concrete batching plant like the small ones?
What is self loading mixer and concrete batching plant
The self loading concrete mixer is a kind of mixing equipment that combines the functions of a concrete truck and a concrete mixer, integrating self loading, metering, mixing, transport and discharging. It can realize concrete transportation and on-site concrete construction operations. It is very popular in India, Philippines, Fiji, Ghana, Kenya,etc.
They are mainly used for road paving, dams, infrastructure construction and other related projects, as well as small projects in urbanization construction.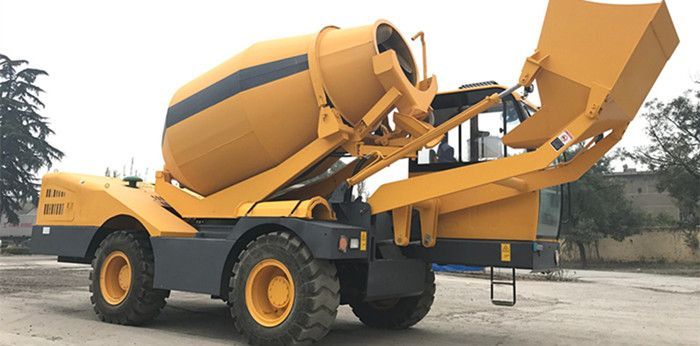 The concrete mixing plant is a combined device used to mix concrete in a centralized manner. Because of its high degree of mechanization and automation, the productivity is also high, and it can ensure the quality of concrete and save cement. It is often used in large and medium-sized water conservancy, electric power, and bridge projects with large concrete works, long construction periods, and concentrated construction sites.
Output
The small models of self loading transit mixer are more popular because of high cost performance. The output is from 6-15 m3/h.
The concrete batching plant is usually divided into stationary batching plant and mobile concrete batch plant. Even for the mobile concrete batch plant, the output is 25-60 m3/h. For large output, stationary one is better, of which the capacity is 25-180m3/h.
Structure
The self loading mixer machine is mainly composed of mixing drum, feeding and unloading mechanism, water supply system, prime mover, transmission mechanism, frame and supporting device. It features four wheel drive and 270 degree discharge.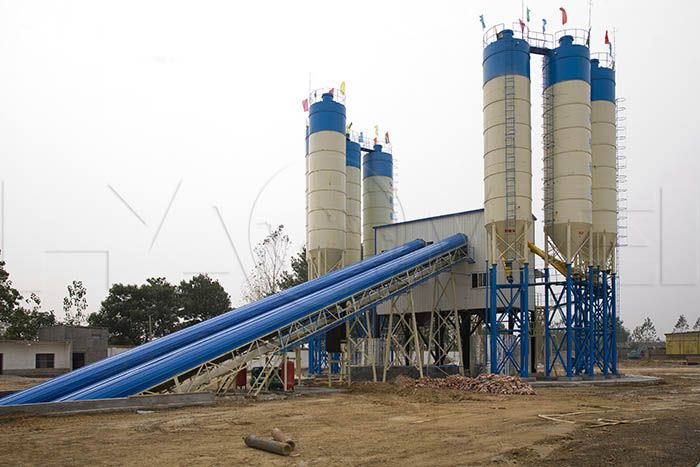 The concrete mixing plant is mainly composed of five major systems: material storage system, material weighing system, material conveying system, mixing system, powder storage system, powder conveying system, powder metering system, water and admixture metering system and control system. It has a large land occupancy and requires careful layout.
Equipment price
As a small construction equipment, the self loading concrete mixer price is relatively low. The price is $13,000 to $39,000 for the main models. The concrete batching plants is usually between $25,000 to $160,000.
Weighing accuracy
Generally, the concrete batching plant usually chooses independent weighing system. The electronic weighing system has buffer device and automatic compensation function, featuring high measurement accuracy.
The weighing system of the self loading mixer for sale consists of a host, two oil pressure sensors, two proximity switches and a detection block. The oil pressure sensor measures the pressure of the the lifting cylinder, and is used to calculate the lifting force of the lifting cylinder. The system realizes dynamic weighing, improves the efficiency of feeding operation, and its measurement accuracy can meet the construction requirements.
Overall, the two are complementary. Each has its own areas of expertise. For some small projects or projects in remote areas, self-loading mixers are more practical.
Original Source: https://www.self-loading-mixer.com/a/can-self-loading-mixer-replace-concrete-batching-plant.html
Tags: self loading mixer for sale
Prev: Which One to Choose: New or Used Self Mixing Concrete Truck
Next: Is Self Loading Concrete Mixer Truck Good to Use in Philippines
Send us a Message
*required
Relate Products
CONTACT US
Haomei Self Loading Mixer Co.,Ltd
Tel/Whatsapp: +86-15978414719
Email:
feedom@haomei-machinery.com
Website: https://www.self-loading-mixer.com
Office Add: 1103, No.14 Outer Ring Road, CBD, Zhengzhou, China