What You Should Know About Self Loading cement mixer

2022-06-01
The self loading cement mixer is a kind of construction machinery that has gradually emerged in recent years. It integrates multiple functions such as feeding, mixing and transportation. It can realize rapid production of concrete and effectively improve the efficiency of engineering construction. It can mix concrete of various grades such as C35, C30, C25, C20, etc. It saves the cost of concrete mixer, loader and labor.
The self loading concrete mixer can rotate 270 degrees and discharge in multiple direction. The operating room can drive in both directions, so for projects with relatively narrow roads, it is an ideal choice.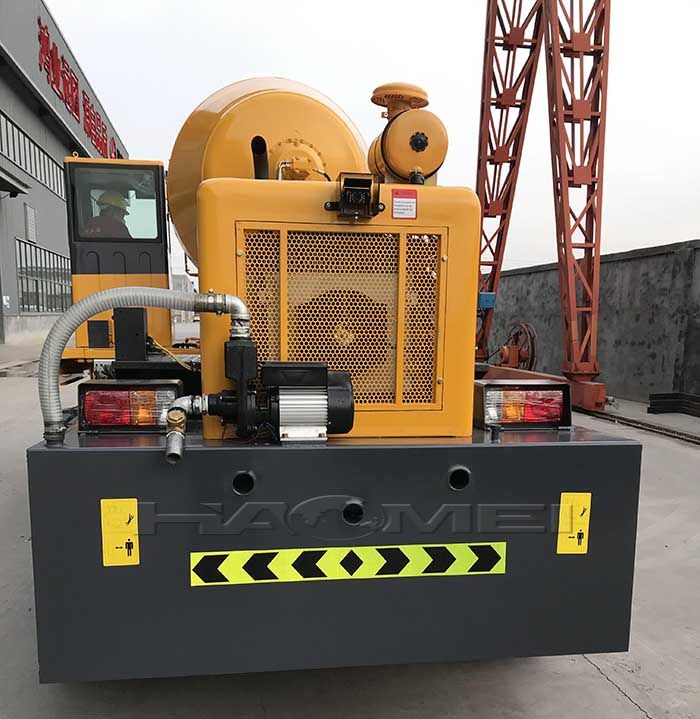 In terms of full-scene adaptability, except for the advantage of being able to be used from multiple angles, in order to realize the free driving between different terrains, Haomei self loading mixer is of four wheel drive. And we have optimized he chassis performance and climbing stability. No matter the plain or the mountainous area, the safety is always the same. Even in a desert country like Saudi Arabia, it can work all the year round.
There are various models of self loading transit mixers for you to choose from. The 1.6-2.0 cubic can easily walk on narrow roads, such as country roads, narrow slopes, etc., and is flexible and convenient. The 2.6-4 cubic is more suitable for large-scale construction site construction, mountain road bridge construction and water conservancy projects, etc. When making a selection, buyers need to consider and choose based on actual conditions such as project size, average daily demand, operating time, and environmental factors.
The biggest advantage of self loading transit mixer is integration. Compared with concrete batching plant, although the advantages in large-volume concrete pouring are not obvious, it has great advantages for line foundations with low voltage level and small single-base concrete volume in Africa. It has strong flexibility and adapts to local terrain conditions. Especially during the African rainy season, its advantages are obvious and worthy of promotion.
Original Source: https://www.self-loading-mixer.com/a/what-you-should-know-about-self-loading-cement-mixer.html
Tags: self loading transit mixer
Prev: Troubleshooting of Self Loading Concrete Truck Mixer
Send us a Message
*required
Relate Products
CONTACT US
Haomei Self Loading Mixer Co.,Ltd
Tel/Whatsapp: +86-15978414719
Email:
feedom@haomei-machinery.com
Website: https://www.self-loading-mixer.com
Office Add: 1103, No.14 Outer Ring Road, CBD, Zhengzhou, China