The After-sale Service of Haomei Self Loading Mixer

2021-04-27
The self loading mixer is a construction machine born for the small construction projects in harsh environment like mountain roads, house building, slope protection, tunnel construction,etc. It has self loading, weighing, mixing, transport and discharging in one. With four wheel drive, it can freely drive form one site to another.
There are more and more self loading transit mixer manufacturers. How to choose a reliable one? There are two points we need to pay attention to: one is the design detail of the machine itself and the after-sale service. Take Haomei self loading concrete mixer for example.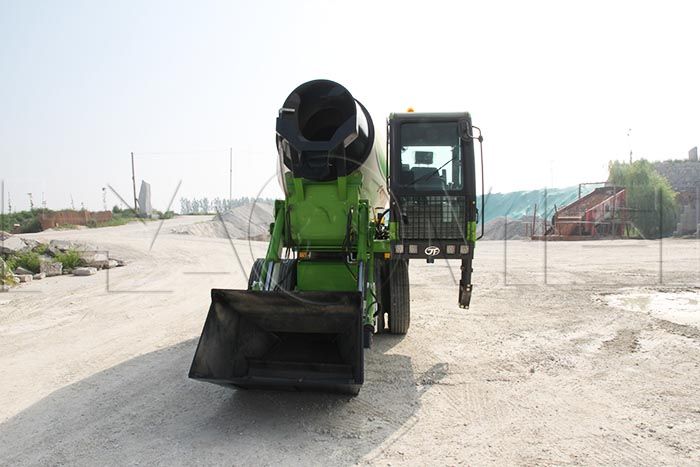 It is equipped with a hydraulic electronic scale, ensuring an accurate concrete ratio. The mixing tank of the self loading concrete mixer machine is equipped with a speed control valve, which can accurately control the mixing speed of the mixing tank.
To ensure a comfortable temperature in the cab, there are two cooling devices for the customers to choose from: fan or air conditioner. It also has excellent gradeability, which can easily climb the slope of 45 degrees.
Haomei self loading concrete mixer machine is not only well known for superior performance, but also considerate after-sale service. There are what we can do for you:
1. We promise one year warranty. There is enough spar parts in stock. Please leave your message on my website, we will arrange shipment within 48 hours.

2. Go to your site and help you install and debug. We have professional technicians can guide yo online or help you debug on site without extra cost.
3. We provide free training for your operator. When our self loading mixer for sale arrives your city, our salesman and engineer will go to your city, do training for your operator, and tell him how to operate the machine, how to do maintenance, and some notes when using the machine, till he can operate the machine successfully.
4. If there is something wrong with the self loading concrete mixer machine, you can contact us any time. And we can go to your city, check and maintain. In addition, we have set up LBS (local business service) centers in Kenya, the Philippines, Vietnam, Bangladesh,and Indonesia.
5. If you introduce other users to buy our self loading concrete mixers, we will give you some commission.
Original Source: https://www.self-loading-mixer.com/a/the-after-sale-service-of-haomei-self-loading-mixer.html
Tags: self loading mixer | self loading concrete mixer machine | self loading transit mixer
Prev: The Self Loading Mixer for Mountain Road
Send us a Message
*required
Relate Products
CONTACT US
Haomei Self Loading Mixer Co.,Ltd
Tel/Whatsapp: +86-15978414719
Email:
feedom@haomei-machinery.com
Website: https://www.self-loading-mixer.com
Office Add: 1103, No.14 Outer Ring Road, CBD, Zhengzhou, China