Why Choose Self Loading Concrete Machine for Road Construction

2021-06-22
Road construction is an important part for the remote or mountainous areas, which will not only facilitate their life and travel, but also contributes to developing tourism and other economies. But since the rural projects always face to a lack of workforce, a highly automatic construction machine is needed.
At present, there are three ways to get concrete: buying commercial concrete, concrete mixer or manual operation. As we know, for small projects, buying commercial concrete will bring exacerbate budgetary constraints. The using of concrete mix and manual operation is of low efficiency. That's why the self loading concrete machine is popular in rural road construction.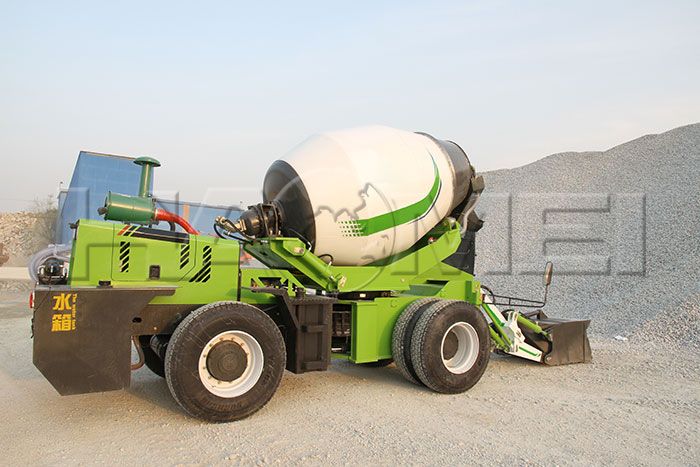 The self loading concrete machine is of self loading, weighing, mixing, transport and discharging. It can discharge with 270 degrees over driving. More importantly, its mixing quality can fully meet the road construction.
Under normal circumstances, C25 concrete can be used in rural road construction, but if it is a section where large vehicles are allowed to pass, C30 and C35 concrete with higher hardness is required. The thickness of rural roads is basically 20 cm, and 0.6 cubic meters of concrete is needed to build a one-meter road. A mini self loading concrete mixer such as HM2.0 self mixer is OK.
It can produce concrete with different hardness according to the required concrete model. It comes with an accurate industrial electronic scale. It can have a strict control of each material according to the concrete ratio. In addition, it has a strong mixing technology, which ensure the quality of concrete.
The mini self loading concrete mixer enable the construction contractors get concrete at the price of raw material. Its price is one-fourth of the commercial concrete price. Its efficiency is several times that of a concrete mixer. Welcome to leave message below to inquire it.
Original Source: https://www.self-loading-mixer.com/a/why-choose-self-loading-concrete-machine-for-road-construction.html
Tags: self loading concrete mixer truck price
Prev: The Highlights of Self Batching Concrete Truck
Next: How Does Self Loading Transit Mixer Realize Self Weighing
Send us a Message
*required
Relate Products
CONTACT US
Haomei Self Loading Mixer Co.,Ltd
Tel/Whatsapp: +86-15978414719
Email:
feedom@haomei-machinery.com
Website: https://www.self-loading-mixer.com
Office Add: 1103, No.14 Outer Ring Road, CBD, Zhengzhou, China