Top Five Advantages of Self Loading Concrete Mixer

2020-03-24
The self loading concrete mixer is a machine combining self loading ,mixing and discharging. It is favored in more countries,which is indispensable with its numerous advantages. Now Let's have a look of its top five advantages.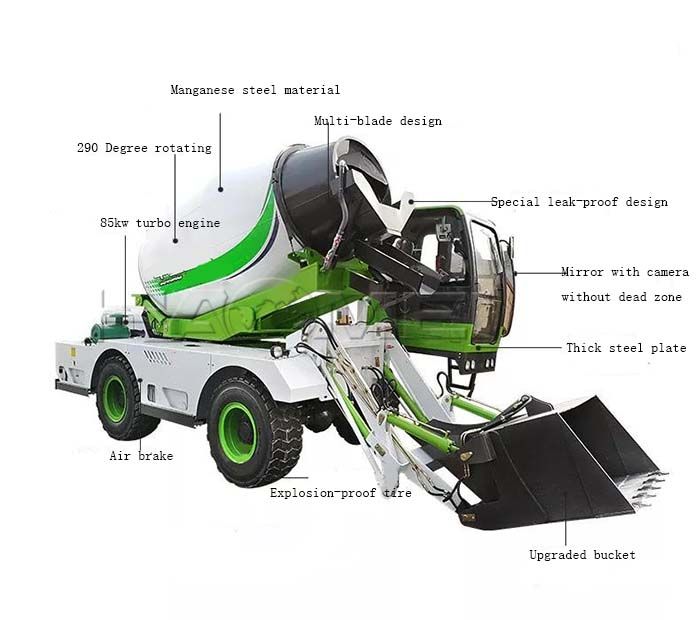 1. High cost-effective. It saves your cost on purchasing the loader, mixer, concrete truck, electricity generator, etc. But the self loading concrete mixer price only occupies about one tenth of their total cost.
In addition, it saves your labor cost and high flexibility makes it suitable for renting that is another way to expand business.
2. Simple operation. Only two people are needed to produce it. The driver operates the automation program and the other do some auxiliary work. The operation is simple and the driver can learn to drive in a few hours.
3. Multi-function. The self loading concrete mixer truck has seven functions including loading, weighing, pumping water, mixing, transportation, discharging and washing. 270 degree discharging enables it have excellent performance in narrow construction sites.
4. Four wheel drive and durable tank material, bringing a longer service life.
5. High flexibility. It saves the equipment transportation and installation time, greatly improving the construction efficiency and shortening the whole construction period.
Original Source: https://www.self-loading-mixer.com/a/top-five-advantages-of-self-loading-concrete-mixer.html
Tags: self loading concrete mixer | self loading concrete mixer price | self loading concr
Prev: How to Buy Self Loading Mixer
Next: What Are The Key Parts of Self Loading Concrete Mixer Truck
Send us a Message
*required
Relate Products
CONTACT US
Haomei Self Loading Mixer Co.,Ltd
Tel/Whatsapp: +86-15978414719
Email:
feedom@haomei-machinery.com
Website: https://www.self-loading-mixer.com
Office Add: 1103, No.14 Outer Ring Road, CBD, Zhengzhou, China