How to Buy Self Loading Mixer

2020-03-24
The self loading mixer is a combine of concrete mixer and concrete truck with only needing 1-2 operators. Its compact structure also makes it suitable for most construction sites, therefore it is more and more popular in urban and rural construction.
Facing to so many self mixer manufacturers, it is difficult to choose from. There are four tips from Haomei Machinery.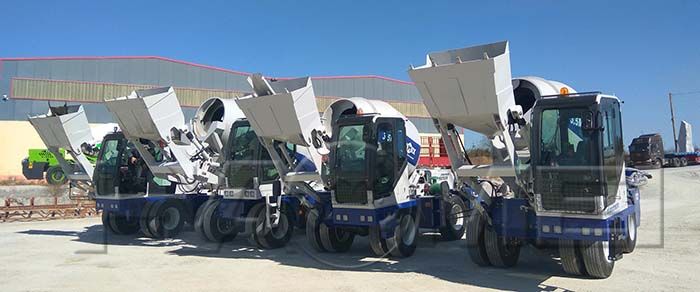 1. You should first have a knowledge of the self loading concrete mixer for sale such as its models, engine, performance parameters and application scope. The popular models on the market is 2.0, 3.5 and 4 cubic self mixer. Their capacities are respectively 10 m3/h,18 m3/h and 20 m3/h. Haomei has several brands of engines for you to choose from according to your budget.
2. Then you can have a good knowledge of the self loading concrete mix manufacturers. Haomei's good reputation is based on its reliable quality and decades of considerate after-sale service. If you don't know us before, we have rich data including video for your reference or you can visit our factory.
3. Consider whether It is convenient to buy when the parts needs replacing. It is very easy to buy a self loading transit mixer. However, if the parts are broken, we need to replace them at the first time. Some small manufacturers or supplier may be not able to make it.
Haomei Machinery provides parts for all of our models. You can have a look of our self loading mobile concrete mixer spare parts.
4. The after-sale and maintenance is also an important factor to consider. Any machine may have something wrong after a long-term work. How to solve it matters a lot. A big manufacturer has its engineer team to provide technical support any time.
Original Source: https://www.self-loading-mixer.com/a/how-to-buy-self-loading-mixer.html
Tags: self loading mixer | self mixer | self loading concrete mixer for sale
Prev: How to Choose Self Loading Concrete Mixer Truck
Send us a Message
*required
Relate Products
CONTACT US
Haomei Self Loading Mixer Co.,Ltd
Tel/Whatsapp: +86-15978414719
Email:
feedom@haomei-machinery.com
Website: https://www.self-loading-mixer.com
Office Add: 1103, No.14 Outer Ring Road, CBD, Zhengzhou, China