The Scientific Design of Self Mixing Concrete Truck

2022-05-10
In the construction process, the self mixing concrete truck can be used in conjunction with the concrete pump truck, so that the production and transportation of concrete can be mechanized and automated. This not only greatly saves construction time, but also effectively reduces labor costs and improves construction efficiency.
Haomei self loading concrete truck has multiple patented design: strong mixing device, mixer truck feeding device, multi-angle unloading technology, forward and backward control technology, feeding technology, articulated body patent, self-loading and unloading appearance design, transmission system,etc.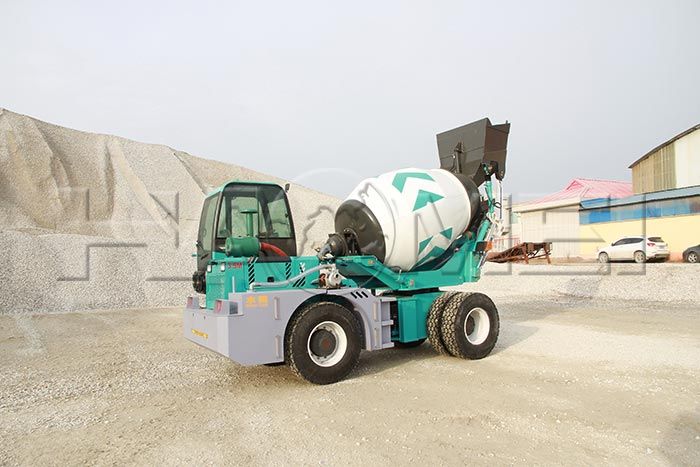 It is also four wheel drive, fully imported hydraulic system and uniform concrete mixing effect, which can completely replace the concrete mixer. It does not depend on the electricity, which is a better choice especially for concrete construction sites without water and electricity.
The whole process can be operated by one person, and the weighing system of the self-feeding mixer can be selected according to the customer's requirements. With accurate weighing, it can satisfy the need of a variety of concrete ratios such as C35, C30, C25, and C20.
Mixing drum
It mainly consists of a mixing drum and its auxiliary support. The mixing drum is a concrete loading container made of high-quality wear-resistant steel sheet. The inner wall of the mixing drum is welded with special-shaped helical blades for automatic loading and unloading of concrete.
The self loading concrete truck usually uses the car engine to drive the hydraulic pump through the output shaft, and then the high-pressure oil drives the hydraulic motor to drive the mixing drum, while the on-board auxiliary diesel engine is hydraulic. The blade is the main part of the mixer, and damage and severe wear can cause uneven mixing of the concrete. Improper blade angle design can also lead to concrete segregation. Welcome to leave message below to inquire it.
Original Source: https://www.self-loading-mixer.com/a/the-scientific-design-of-self-mixing-concrete-truck.html
Tags: self mixing concrete truck
Prev: Self Loader Concrete Truck In Kenya
Next: Null
Send us a Message
*required
Relate Products
CONTACT US
Haomei Self Loading Mixer Co.,Ltd
Tel/Whatsapp: +86-15978414719
Email:
feedom@haomei-machinery.com
Website: https://www.self-loading-mixer.com
Office Add: 1103, No.14 Outer Ring Road, CBD, Zhengzhou, China