Self Loading Concrete Mixer Malaysia Price

2022-01-25
The self loading concrete mixer is of small body, four wheel drive and strong off-road performance. It can flexibly work in various construction environments such as mountains, plateaus, and basins. Therefore, it is very popular in Malaysia, Philippines, Singapore,etc.
Its biggest advantages is that it integrates several independent machines, namely oader, mixer and concrete truck. It has three functions of loading, mixing and transportation at the same time. The self loading concrete mixer price is relatively cheaper than the total cost of the above three machines.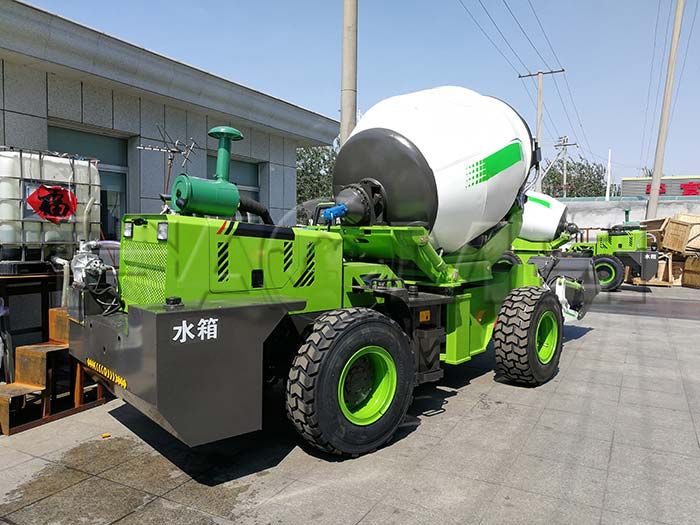 There is a big arm next to the cab of the self loading mixer, which is called the loading arm. The driver operates in the cab, and the loading arm can perform a series of lowering, shoveling, and lifting actions. The whole process from the loading to the raw material feeding is completely finished automatically.
At the same time,there are two designs to ensure the required concrete quality. One is the automatic weighing system to ensure the proper ratio, the other is strong mixing performance. A good mixing tank has a unique design. When mixing all the raw materials, keep the raw materials rotating and stirring on a core, so that the mixed concrete has a high uniformity.
How to choose a proper self batching concrete truck
1. Engineering amount
If the demand for concrete in one day is less than 100 cubic meters, then the models of 1.2-2.0 cubic meters can be considered. If the demand for concrete in one day is more than 100 cubic meters, it is recommended to choose a model of 2.6-4.0 cubic meters.
2. Road conditions
The models of 1.6-2.0 m3 can easily walk on narrow roads, such as country roads, narrow slopes, etc., which are flexible and convenient; and 2.6-4.0 self batching concrete truck are more suitable for large-scale construction sites like mountain road bridge construction and water conservancy projects, etc.
3. The actual situation
When making a selection, buyers need to consider based on actual conditions such as project size, average daily demand, operating time, and environmental factors. Welcome to leave message below to inquire self loading concrete mixer Malaysia price.
Original Source: https://www.self-loading-mixer.com/a/self-loading-concrete-mixer-malaysia-price.html
Tags: self loading concrete mixer
Prev: The Design Features of 4 m3 Self Loader Truck Singapore
Next: Self-loading Mobile Concrete Mixer Truck: A good Choice Under the Epidemic
Send us a Message
*required
Relate Products
CONTACT US
Haomei Self Loading Mixer Co.,Ltd
Tel/Whatsapp: +86-15978414719
Email:
feedom@haomei-machinery.com
Website: https://www.self-loading-mixer.com
Office Add: 1103, No.14 Outer Ring Road, CBD, Zhengzhou, China