How to Avoid Concrete Segregation of Self Loading Mixer Machine

2020-11-11
The use of self loading mixer machine is of great significance to improve operating profit, save energy consumption and reduce environmental pollution. However, under different usage conditions, the phenomenon of concrete segregation may still occur. There are several causes and some corresponding treatment opinions for your reference.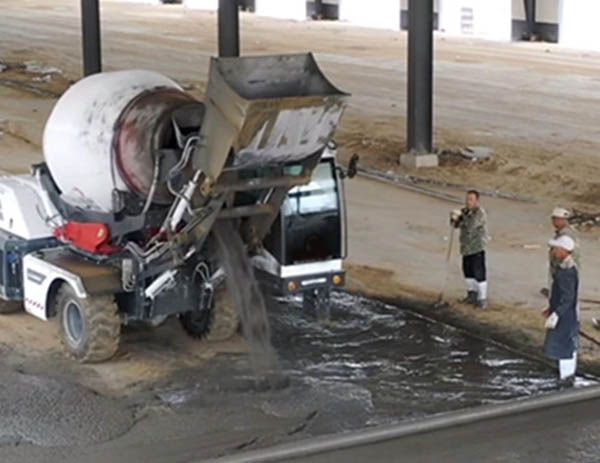 Causes of concrete segregation
1. The discharging time lasts too long, and the mixing drum stops rotating when discharging, causing the concrete to separate.
2. The transportation time is too long. Due to the long transportation time of the self loading concrete mixer truck,the concrete is gradually separated due to insufficient mixing.
3. The loading volume exceeds the mixing volume. The overloaded part cannot get mixed and it it will be separated after long-term transportation.
4. The tank rotation speed is too fast during transportation. Because the tank rotation speed of the China self mixing concrete truck is too fast, (generally the rotation speed of the self loading concrete mixer truck during transportation is 3 rpm), and the specific gravity of the various media in the concrete is different, the speed is too fast to separate the particles with larger specific gravity from the mortar and make them concentrate on the part near the tank.
Solutions
1. A positioning device is added to the control handle of the cab to ensure that the tank rotation speed is 2-3 rpm.
2. The driver should be familiar with the routes. Try to shorten the transportation time of the concrete as much as possible.
3. When the self loading mixer is unloading, minimize the stopping time. If the stopping time is long, return the control handle to the mixing position to make the drum in a mixing state.
Haomei Machinery suggests you to use the self loading mixer machine according to its manual. Welcome to leave message below to inquire self loading concrete mixer truck price.
Original Source: https://www.self-loading-mixer.com/a/how-to-avoid-concrete-segregation-of-self-loading-mixer-machine.html
Tags: self loading mixer machine | self loading concrete mixer truck price | china self mixing concrete truck
Prev: China Self Mixing Concrete Truck for Small Projects
Send us a Message
*required
Relate Products
CONTACT US
Haomei Self Loading Mixer Co.,Ltd
Tel/Whatsapp: +86-15978414719
Email:
feedom@haomei-machinery.com
Website: https://www.self-loading-mixer.com
Office Add: 1103, No.14 Outer Ring Road, CBD, Zhengzhou, China